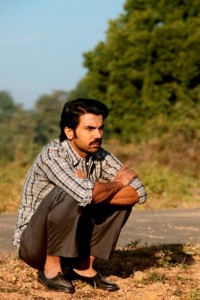 Bollywood is filled with stories of inspiration, characterizations and stars stepping into shoes of a common man, to live their experiences in life. While most of the times the real instances, are never captured, here's a tale with a twist to it.
One of the best actors of Bollywood Rajkumar Rao, who will next be seen in Hansal Mehta's Citylights went above and beyond to become his character of a trader in the film. To get into the character fully, Rajkummar posed as a commoner to witness the struggle he might have in the dream city of Mumbai.
Apparently Rajkummar posed as a menial worker and tried to look for jobs in Mumbai and went from door to door. A source close to their production team revealed, "Rajkumar went looking for a job near Santacruz station and asked if he could get some work there but everyone denied and later he landed up at a construction site nearby. The contractor offered him to work at a wage of 100 rupees a day and he agreed to work."
The footage of all this was captured with cameras from far away and what is even cooler is that it has been added to the film too. "Rajkummar actually slogged and worked hard to earn that note of 100 rupees and this scene you will even see in the film."
Well, with so much hard work and commitment, we see the reason why Rajkummar Rao won the National Award.
Directed by Hansal Mehta, Citylights, which hits the big screen on May 30th, is an official remake of the international award winning film 'Metro Manila'.
CITYLIGHTS is based on the life of a trader in Rajasthan who comes to the City of Mumbai with his wife and daughter in hope of a better life. The challenges they face, their encounter with a big city and how they rise to meet those challenges nurtured by the power of their love is what Citylights is all about.
The story revolves around Rajkummar's character who dreams of an improved life for his family and moves to a big city in the hope of making a living but soon his dreams come crashing down as he finds city of lights casting a dark shadow threatening to swallow the love of his life-his wife and his child. How far must he go then to protect his family sets the tone of this emotional love story against the backdrop of a thriller.
At heart Citylights is a love story, a story about familial bonding, a thriller that explores the depths of human nature and a drama about sacrifice in the city of dreams. Citylights is about our world, our times and the ultimate emotion that drives every relationship – love.