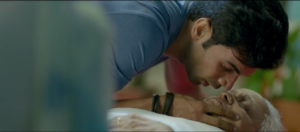 Rajkummar Rao, the new age talented artist has been a part of the most talked films in the past few years.
But during the shoot of Behen Hogi Teri, Rajkummar Rao had to do 18 retakes for a scene with Kamlesh Gill. The scene was such that Rajkummar Rao had to give CPR to Kamlesh Ji but he couldn't do the scene without breaking into laughter.
In one take, he accidently kissed Kamlesh Ji and the whole set became quiet and awkward until Kamlesh Ji cracked up herself.
The kiss of life became the highlight of the day on set.
Oddball Motion Pictures present Behen Hogi Teri is produced by Antony D'souza, Amul Vikas Mohan and Nitin Upadhyaya, directed by Ajay K Pannalal. The movie starring Rajkummar Rao, Shruti Haasan, Gautam Gulati, Gulshan Grover, Ranjeet and others releases worldwide on June 9th, 2017.