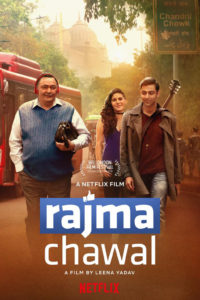 Literally meaning beans and rice, Rajma Chawal is a new movie in Hindi directed, produced and written by Leena Yadav. Rajma Chawal is a staple of many middle-class households throughout north India, but as a title it belies the underlying web of weirdness that makes this film a 6/10 on IMDb. Starring venerable actor Rishi Kapoor as well as Aniruth Tanwar and Amyra Dastur in the lead roles, this is a simple story that quickly goes sideways.
From a story point of view, this is a story about how loss affects each one of us in different ways… a story about the love of a father has for his son, but also a story of moving on with life. Raj Mathur (Rishi Kapoor) having been cheated in business, and upon the death of his wife, decides one day to shift to Chandni Chowk – a part of Old Dehli, with his son Kabir. Raj also sells his house in New Dehli without Kabir's knowledge to pay off his outstanding debts. Kabir who is greatly attached to his mother considers the house to be the last memories he had with her. This is the beginning of a big change for both and each deal with it differently.
Kabir's ambition is to be a singer in a band that did the New Dehli circuit. His taste in music was encouraged by his mother. Kabir misses his mother, their house in New Dehli, his old band friends and totally resents his father's old-fashioned ways. Tension builds as father and son don't talk. A lot of work goes in here from the cinematographer to keep scenes as natural as possible, allowing the actors to show the disdain their characters have for each other.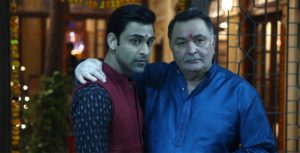 On the other hand, meeting up with family and friends in Chandni Chowk, Raj is very happy to be back at home and wonders why he left in the first place. They hit upon an idea to create a Facebook account of a girl under the name Tara. Once Tara connects with Kabir, communication is flowing and constant. Background music here builds both joy and tension as Kabir starts to find his feet in his new home and Raj finds a way to speak with his son.
However, Tara isn't a fake account as it turns out to be Seher's (Amyra Dastur) in real life. Raj convinces her to help him get Kabir back on side rather than breaking the myth of Tara that has brought father and son closer together. All seems well until an actual relationship blossoms between Kabir and Seher and Raj losing control of the situation accuses Seher which breaks open the story into a role-reversed formula film of the 90s. Rishi Kapoor who's film Bobby started this theme of two young people falling in love whatever anyone else has to say about it until they convince everyone over to their way of thinking, has now come full circle on him and really does give the film a bit of a sour taste in the climax.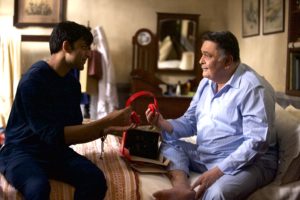 The songs throughout these parts are all songs sung by Kabir as part of his band, some of which occur because they reinforce an emotion the dialogue has recalled or as a way for him to remember his mother. Since it was his mother that encouraged this way for Kabir, this is not a surprise, but they don't do much as music on their own as they are completely tied to the story.
Nevertheless, as with Bobby we return in the end to a happy resolution as Raj and Kabir finally come to an understanding of one another and Kabir finds life happiness with his love Seher. This completes the circle and reinforces the accidental theme of if you can't beat them, join them. If as a viewer you were interested in thought provoking movies this isn't one of them, but neither is it just a pure entertainer as there are genuine moments of thought provocation. Still, at the end of the day, this is about finding you feet when everything around you is changing and then standing up for yourself when all those around you believe you are wrong. Each character displays this well in their roles and no doubt each actor fulfils this theme in their portrayal. But since its both formulaic and off-beat, it feels completely middle of the road from a story point of view. The music doesn't do much, but the cinematography and direction are strong.