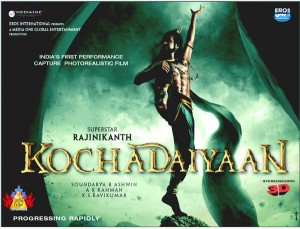 Reema Kagti, director of the upcoming Aamir Khan starrer Talaash, has flat out denied the rumors that superstar Rajnikanth was approached to do an item number for her film. Members of Rajnikanth's camp were also dumbfounded by the rumor which appears to have started when a leading Bollywood gossip site posted a piece about the supposed item number as an April Fool's Joke.
It appears some members of the media misconstrued the joke, and the "news" did not take much time to spread like wildfire across all media channels.
"At first, Rajniji's family took the rumors of an item song in their stride. But now the reports are getting increasing inventive," a source closely associated with the superstar told IANS.
While the bizarre rumor was circulating in the media, the superstar has been busy with his highly anticipated project Kochadaiyyan.
"At the moment Rajiniji is completely involved with every department of his new film Kochadaiyyan. He is not even looking at doing any other work. He spends all his time with the post-production team," reveals the source.
"He is helping his daughter (Soundarya) with the editing, mixing, background score. Most of all, Rajiniji wants to make sure that the special effects for the action sequences come out perfectly. For that he insists on flying out with the technical team to London each time they need to work on the effects."
Though the prospect of a Rajni item number was enticing, Kochadaiyyan promises to deliver an even grander spectacle for countless fans eagerly awaiting the superstar's next appearance on the big screen.