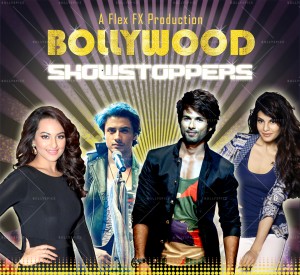 The stage is set, five Bollywood superstars are coming to London for one of the biggest Bollywood shows in Europe – it can only be Bollywood Showstoppers!
The show will be a one night spectacle on Sunday 3rd August at the London O2 arena. Five of the biggest Bollywood superstars; Shahid Kapoor, Sonakshi Sinha, Jacqueline Fernandez, Mika Singh and Ali Zaffar are getting ready to give you an unforgettable show at this year's Bollywood Showstoppers.
They have teamed up with Flex FX, Europe's leading Bollywood dance production companies to bring you all the song, dance, comedy and drama to one of the most prestigious, landmark venues in the UK.
Hosted by the Award Winning Duo:  Raj&Pablo, the night promises to be full of Bollymagic!
Come join us live on Sunday 3rd August. Doors open at 5pm. Show starts at 6.30pm.
Box Office (Ticket Prices £40, £55, £75, £100, £150 & VIP).
The O2: http://www.theo2.co.uk/event/bollywood-showstoppers-2014-20140803.html
Ticketmaster: http://www.ticketmaster.co.uk/Bollywood-Showstoppers-tickets/artist/1812038
See Tickets: http://www.seetickets.com/event/bollywood-showstoppers-2014/the-o2-arena/788964
Chilli Tickets: http://www.chillitickets.com/28071-bollywood-showstoppers
VIP & Group Packages: +44 (0) 7557 858 036