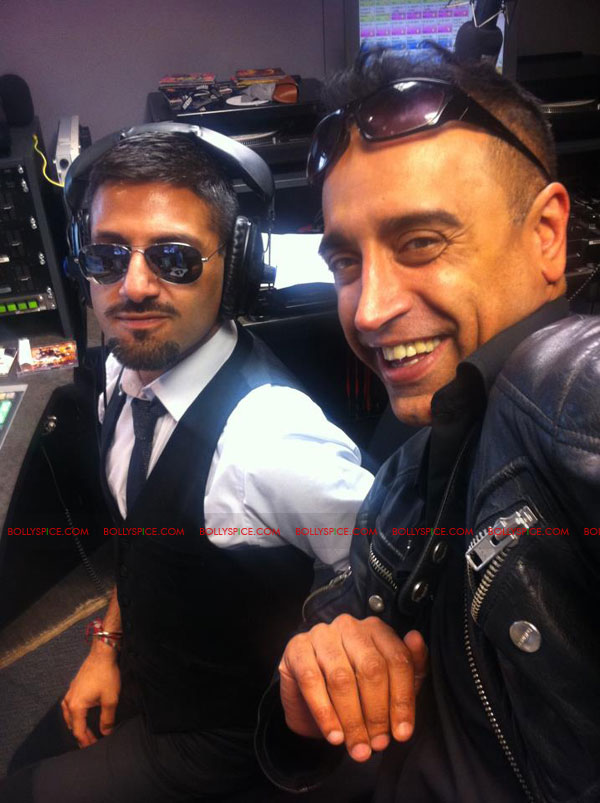 We are delighted to be part of the BollySpice Family – one of the most Bollytastic websites worldwide and would love your feedback, thoughts and questions!
It's been a whirlwind of Bollywonderfulness in London for the past few weeks – and sometimes it feels like there are more Bollywood Stars in London than Mumbai!
Had a wonderful catch up magical director NIKHAL ADVANI – he was on a short trip to the Big Smoke and we chatted films, films and more films. He's working on two movies at the moment… although we can't reveal anything. Nikhil was in town with his wonderful sister Monisha – whom we describe as an International Vagabond with Vuitton!
Really impressed by the sensuous Veena Malik whom we can only describe as a sex symbol with brains. She is going to go far – and despite all the controversies is a dedicated professional with talent. She almost had us in tears about the struggles and lonliness she felt after the initial furor of her now infamous photo shoot.
Singers galore in London – Rahat Fateh Ali Khan who revealed he was a great fan of Madan Mohan and couldn't believe when we told him that Lata Mangeshekar is a fan!
One of our close friends ADNAN SAMI sparkled at Wembly Arena and was at his wittiest self-deprecating form. He introduced us to his lovely wife Roya Farybi and told us he would love to work on a sequel to the multi platinum Kabhi To Nazar Milao with Asha Bhosle.
Amitabh Bachchan has described her as the Sultana of Sufi and the understated Harshdeep Kaur sang to us while tucking into her favourite English Breakfast – she loves Baked Beans! But what a voice – we love 'Katiya Karon'!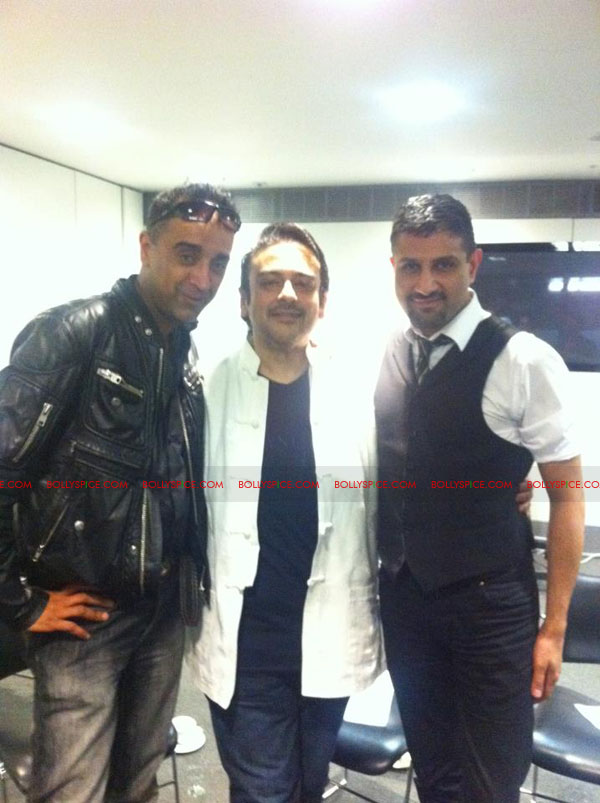 Salim Suleiman were also in town and can't wait to perform in London for a series of concerts. The two brothers' reminded us of ourselves as their banter and sense of humour is so similar. We ended up having a heated debate over the virtues of Madonna as opposed to Lady Gaga! Raj and Salim love Lady Gaga while Pablo and Suleiman are die hard Madonna fans.
Muscles come in many forms but one star who still can't believe people adore him is the wonderful JOHN ABRAHAM. He has now turned into a full-fledged producer and is over the moon about the success of Vicky Donor. He is on the lookout for inspiring ideas and scripts – so do get in touch. He also revealed he has moved on and is in a very good space at the moment and so energised at the success of Force and the phenomenal Houseful 2. You can catch our interview with him on our TV SHOW – Raj&Pablo's Bollywood Showdown on B4U.
Kunal Kohli is excited about Teri Meri Kahani and told us part of the story is based on the life of his great grandparents in Lahore – and recreated a fully fledged Punjabi village on the outskirts of Mumbai. Kunal loves London and always has a list of toys to buy for his family.
We had a blast with our favourite Pryianka Chopra who was in town recording for her album. She told us she will be co-writing all the songs and is excited at being one of the first ever international Indian Popstars – Miss World, Miss Bollywod, Miss Pop Princess – way to go girl. She is so unassuming and blushed when we congratulated her for joining the 100 Crore Club after the success of Don 2 and Agneepath. All three of us got very giggly and you should have seen the look on our faces when Pablo presented her with his favourite coffee mug. She joked that only Pablo could give her a mug with his name emblazed on it! She also loved working with her neighbour Shahid Kapoor and says he had her in stitches on the sets with his impressions!
Raj&Pablo's Bollywood Classic.
Now we have all been wowed by the wonderful KATRINA KAIF in Agneepath and her performance of Chikni Chameli and are looking forward to VIDYA BALAN'S item number "Mala Jao Dya Na" for Ferrari Ki Sawari – she rehearsed for three weeks with a troupe of authentic Lavani Kholapur dancers to ensure the steps were perfect. So our classic this week is from the origional Dancing Sensation the legendary HELEN who sizzled in her origional Lavani item number MUNGDA from the 1979 thriller Inkar
httpvh://www.youtube.com/watch?v=0rXNmJjlZfM&NR=1&feature=endscreen
We are delighted to have found a new home for our legendary Raj&Pablo's Bollywod Nights – Our Bollytastic Saturday Sizzler is on the last Saturday of the month and if you are in London and want the best of Bollywood do come down. Chutney& Lager SAT 28th April 18 -22 Hounsditch Aldgate City of London.
This month we will also be launching the model search for this year's PAKISTAN FASHION WEEK – so if you have what it takes do come down and audition.
http://www.facebook.com/events/390906860942780/
Pakistan Fashion Week London is holding it's model casting in conjunction with Raj&Pablo Bollywood Nights on 28th April 2012 at Chutney and Lager. A total of 60 models to be selected for the event. Do you have what it takes to be a model? If so….. Send us an email on pfwuk@gmail.com or visit our website atwww.pakistanfashionweek.co.uk.
Talking about all things Fashion – we have just signed our first ever stylist –the talented Zaheer Bashir who promises to make us even more Bollytastic! Zaher says, "I feel truly honoured and excited tob we working with Raj&Pablo and creating an exciting new look for the dynamic duo."
For all Bollyspice readers do send us your personal questions for your favourite Bollywood Stars – who knows – we maybe able to make your dreams come true in the near future!!
And remember – LOVE US , LOVE BOLLYWOOD – Raj&Pablo xx
Catch Raj&Pablo on:
BBC Asian Network – Love Bollywood
B4U – Bollywood Showdown
Qatar Airways – Raj&Pablo Bollywood World.
You can follow Raj&Pablo on Twitter – @rajpablo.