It's been another whirlwind of a week – and no, we are not talking about the Monsoon Weather that's hit the UK shores, at times we felt we were running around filming a Bollywood Rain Song – Tip Tip Barsa Pani! Can't you just see us?
We recorded our show for Qatar Airways and focused on Bollywood Hunks – an ode to all the high octane Mumbai Muscle that is ruling the roost – including Salman Khan, John Abraham, Hrithik Roshan, Akshay Kumar, Aamir Khan – they all made the grade but one thing we do want to ask all our Bollyspice Readers is do you think Ranbir Kapoor makes the grade and what about the Badshah of Bollywood – Shah Rukh Khan? – Remember his six-pack for 'Dard E Disco' for Om Shanti Om. Do let us know by commenting here or sending us a tweet!
Caught up with the magical Anil Kapoor who was in Singapore to announce the IIFA Awards that will be held there in June. He as always was in sparkling form. He told us all about shooting for Tezz in the UK and how intense the schedules were and how the film is a high-octane thriller. Anil also revealed the secrets of his amazing physique and youthful looks. He religiously adheres to a one hour exercise schedule and doesn't smoke or drink. But his main thing is to believe in ourselves and keep abreast of all things new – it keeps you on your toes. Anil is also very excited about his nephew's debut in Ishaqzaade and was emotionally choked when watching the preview cuts. He also joked that yes, daughter Rhea will be producing a new movie BUT she doesn't want him in it.
One of our good buddies Zayed Khan said hello to us on our BBC Asian Network Love Bollywood Show and told us he was battered and bruised while filming for Tezz due to the intensity of completing the stunts for the movie. Zayed's performance is one of the highlights of this movie and the preparations of getting into the character of an urban underground illegal immigrant were fascinating. Zayed his busy with his next two movies and is preparing the next film for his production house Born Free with the wonderful Diya Mirza.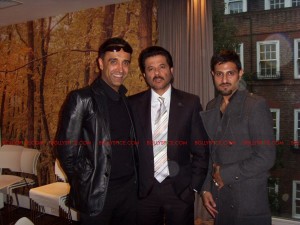 Also on the show was designer Manav Gangani – he creates couture for the who's who in Bollywood and was in sparkling form as we discussed the highs and lows of the catwalk and the hits and misses of a red carpet appearance. Sometimes people tend to forget the pressure stars have to get it right all the time? And on that note who do you guys think is the best dressed Bollywood Star? Both male and female!
Jannat 2 – the highly anticipated sequel to the original not only stars serial kisser Emraan Hashmi but also the intense brooding powerhouse that is Randeep Hooda. We all loved him for his portrayal of the righteous cop in Once Upon A Time In Mumbaai . He plays another cop in this movie, which he told us in not strictly a sequel, but is based all around illegal gun crime. We we were also pleasantly surprised to learn that Randeep is a keen equestrian and takes part in dressage events.
We were in stitches when we caught up with the fantabolous Johny Lever who is currently on a world tour with his Stand Up Comedy Show – Laugh Till You Fart! Johny who gained recognition (and his screen name) while working at the Hindustan Lever factory when he started miming and singing Elvis Presley songs. It was the late great Sunil Dutt that gave him his break in Dard Ka Rishta when he spotted Johny performing his routine during a tour with Kalyanji Anandji. Johny told us he is still in awe and still gets star struck when he meet his legends like Dilip Kumar and Amitabh Bachchan. One of the most successful comedians of Bollywood – he's completed 400 movies – he is still humble when we talked in the same breath about him and Kishore Kumar; Johnny Walker, Mehmood and Paintal. We are very excited about Jonny's next venture – he's just about to launch his own movie and its going to be rib tickling multi-star comedy!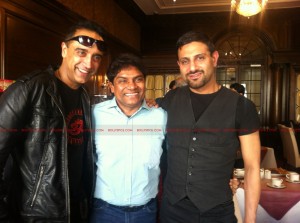 Now despite the torrential rain we had a magical time at our Raj&Pablo's Bollywood Nights@Chutney Lager in London last Saturday. We kicked off the evening with our Model Hunt Finals for the forthcoming Pakistan Fashion Week. It was so hard to judge with so many wonderful finalists – tears , tiaras and triumphs! Pakistan Fashion Week will be held in Kensington Town Hall, London 25th -27th May – and we will have a very special surprise for all BollySpice readers.
The night was full of cinematic shenanigans with the best of Bollywood – and a performance by a future singing star – Rasshee Rraga. She's young feisty with a magical voice and rocked the floor with her Bollywood Bhangra inspired songs! Watch out for her !
Both of us are heartened to hear the Rajesh Khanna is now in recovery after his health scare last week. Rajesh Khanna was one of Bollywood first ever Superstars and a phenomenon. Brought up in Punjab, Rajesh and his close friend Jeetendra had dreams of stardom and both through struggle and determination made it to the top. Did you know that Rajesh Khanna was one of the first ever Bollywood Stars with his own MG? We are dedicating this weeks Raj&Pablo's Bollywood Classic in honour of the legend that is Rajesh Khanna.
Produced and directed by Hrithik Roshan's grandfather, J. Om.Prakash Aap Ki Kasaam – was one of the biggest hits in 1974 and starred Rajesh Khanna, Mumtaz and Sanjeev Kumar in a love triangle with a difference.
httpvh://www.youtube.com/watch?v=i4KzaatZZLM
For all Bollyspice readers do send us your personal questions for your favourite Bollywood Stars – who knows – we maybe able to make your dreams come true in the near future!!
And remember – LOVE US , LOVE BOLLYWOOD – Raj&Pablo xx
Catch Raj&Pablo on:
BBC Asian Network – Love Bollywood
B4U – Bollywood Showdown
Qatar Airways – Raj&Pablo Bollywood World.
Raj&Pablo's Bollywod Nights@Chutney&Lager – 26th May
You can follow Raj&Pablo on twitter – @rajpablo.