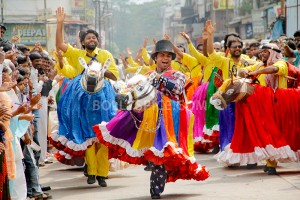 When you hear the name Rajpal Yadav, the words funny man and comedy immediately come to mind. Considered one of the best in the business, Yadav has played myriad of characters in all genres of film, but it is his outstanding comedic performances in films like Chup Chup Ke, Action Replay, Phir Hera Pheri, Main Pyaar Kiya, and so many more that have had us clapping! Now the actor has turned his eye to direction and presents a very unique film to audiences on November 2nd. Titled Ata Pata Laapata, Mr. Yadav says the film is "organized musical chaos" with a social message. We got the exclusive chance to interview Mr. Yadav and he gave us amazing answers to our questions on the film, the music, the Broadway influences and so much more!
Tell us what Ata Pata Laapata is all about.
Ata Pata Laapata is about the struggle and fight of the common man against the political system and corruption prevalent in our society today. It is the story of Manav Chaturvedi whose house goes "missing" from Izzat Nagar, and the turn of events that take place once he files an FIR. It is a mad rollercoaster ride full of music, drama and entertainment.
What inspired the story of Ata Pata Laapata?
The story of Ata Pata Laapata is inspired by the daily happenings around us. It is the story of a common man caught in the web of corruption, his fight for justice and the loopholes prevalent in the Indian political system. The plight of the common man inspired me to make Ata Pata Laapata.
What went into your decision to put on the director's cap for this film?
I am very grateful to my audience for accepting me as an actor. I have worked really hard as an actor and am happy that people of all ages enjoyed watching me on screen. I felt that it was time to take a leap. I wanted to make use of my spare time and do something more besides acting. It was time for me to expand my horizons and explore new opportunities. Earlier I wanted to produce films that were different and bring about a new kind of cinema. But when I heard the concept of APL, I felt the urge to develop it further into a screenplay and direct the film to be able to do complete justice to the concept.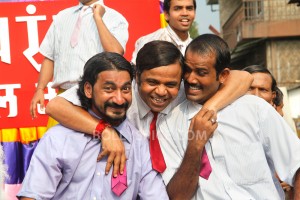 Tell us about your character Manav Chaturvadi
Well, I play a double role in the film. I am playing the role of Manav Chaturvedi as well as Satyanand. Manav represents the aam aadmi of our society surrounded by corruption and malpractices at every level. He has strong values, and as a lawyer, he believes in standing up for what is right. The film will chronicle Manav's fight for his beliefs and values against the system through music and dance, which will be narrated by Satyanand- the other character I play. Satyanand acts as the narrator of the film and will weave the plot together in Broadway style music and dance.
How would you describe the film?
I would describe Ata Pata Laapata as "organized musical chaos". It makes use of musical odes to expose the corruption prevalent all around us. The film has an ensemble cast of more than 175 actors and most of them belong to theatre. The film will appeal to everyone irrespective of age and class. It's a film with a socially relevant message delivered with a dose of entertainment.
In the description it says it is experimental film, a musical satire along the lines of Broadway, can you explain that to us.
I am an ardent fan of Broadway. I wanted to make a socially relevant film but without being preachy about it. Hence, I decided that the narrative style of my directorial debut must be on those lines. In most films, the music is used as a background effect, but in my film it is used in the foreground. Music is an integral part of my film. It gives the film it's soul and helps in taking the story forward.
Since this is something different, did you think something was missing from Hindi cinema? If so what?
Each film today is different in their own terms. It all ultimately depends on the director's approach to the story and how he/she wants to represent it on screen. The story of a common man's fight against the system can be represented in many ways- a hard hitting political drama, a documentary, a satire. I decided to represent the story through a "Broadway style musical satire". That is what is different about my film. Not many filmmakers would take the risk of representing a serious subject in a lighthearted way hence; I felt I should do that.
Hindi cinema is really evolving and coming of age. Today there is room for every type of filmmaker and different genres of films. The audience is maturing and is willing to accept new forms of cinema, provided the content is good.
Since it is a musical, tell us about creating the music and songs for the film.
While creating the music, we had to keep in mind that the film is like a "Broadway Play" co-existing within a film. It is what we call a "Nautanki" in India. Hence, the music had to be lighthearted and appeal to the aam aadmi. Like I said earlier, music forms the soul of my film. Sammer ji has penned the lyrics while Sukhwinder Singh, (of "Jai Ho!" fame), Amole Bhate and me have composed the music. The music was created in such a way that it helps in carrying the narrative forward. It was a wonderful experience.
Was it difficult did you find to be both director and actor?
Honestly, Yes. It is very challenging to manage so many artists on set at that same time while focusing on your acting. For Ata Pata Laapata, I was shouldering too many responsibilities, but I took it up as a challenge. Cinema is an ongoing learning process and one never knows everything. There is always room for improvement. After directing this film, I realized how difficult it is to be behind the camera. It is an art form, which not everyone can master.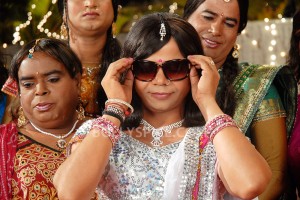 What did you find was the most challenging thing as a director?
I would say the most challenging thing, as a director is to stick to your vision and not get influenced by what people around you keep saying. Filmmaking is not an easy process and involves a lot of coordination, patience and perseverance.
Do you think your acting and previous roles and films helped you as a director?
Yes, definitely. Since I have been directed by some of the most brilliant directors in the industry, I got a lot of my knowledge about direction just by observing them when I used to be on set. Everyday, I used to learn something new and used to tell myself, " When I direct a film, I shall do it this way!"
Since you also wrote the screenplay, seeing your words and scenes come to life onscreen what has that experience been like? Are you happy with the final result?
It is a wonderful experience when one sees their child grow and become a well-nurtured human being. I would say the same thing about my film. Ata Pata Laapata is my baby and I have taken great pain to nurture it. I felt an immense sense of pleasure and pride when I saw my idea come to life on screen. I also felt very blessed as two great stalwarts, Late Dara Singh ji and Late Satyadev Dubey Ji, both are a part of my film.
What are audiences going to see when they come to see Ata Pata Laapata?
The audiences will be entertained throughout APL. It is a film with a lot of layers, which can be enjoyed by the masses as well as the classes. It is a film that shows you a mirror to the society we are living in and will make you laugh as well think.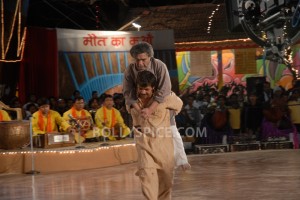 What are your hopes for Ata Pata Laapata?
I honestly just wanted to make an entertaining film. I hope the audience appreciates all our hard work and enjoys watching the film. At the end of the day, the audience decides a fate of a film. I just hope and pray for the best.
What do you think of Hindi cinema today?
Hindi cinema today is growing by leaps and bounds. We are achieving not only technical superiority, but are also making films on some very bold subjects which were considered a taboo probably just a decade ago. I would say Hindi Cinema is coming of age and has tremendous potential to grow even further and touch the lives of millions across the globe.
With this intriguing mixture of Broadway, Hindi films and more we can't wait to see Ata Paata Lapatta when it opens in theaters on Friday! The film stars the late Dara Singh, late Pandit Satyadev Dubey, Asrani, Vikay Raaz, Rajpal Yadav, and Ashutosh Rana
Check out the trailer to see what is in store!
httpvh://youtu.be/CuR6PmAiRFU