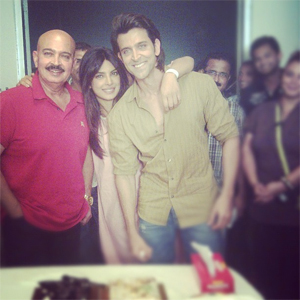 Rakesh and Pinky Roshan celebrated their 42nd wedding anniversary yesterday on the sets of their film Krrish 3. It also happened to be the last day of the film's shoot. As it was a wrap- up, Roshan was keen not to cancel the shoot.
A source from the sets says, "There were two cakes which were cut. One for the completion of the film and second for the wedding anniversary. Both Pinky and Rakesh Roshan's daughter Sunaina were on the sets to celebrate the occasion."
Hrithik took an active part in the celebrations. In the night, the Roshans had a quiet family dinner.
"Every year Hrithik and Sussane organise a huge party but Rakesh Roshan did not want to put off the last day of the shoot, so they decided to celebrate the anniversary by cutting a cake on the sets of Film City," sums up the source.
Krrish 3 is set to release on 3rd November 2013 and stars Hrithik Roshan, Priyanka Chopra, Kangana Ranaut and Vivek Oberoi.