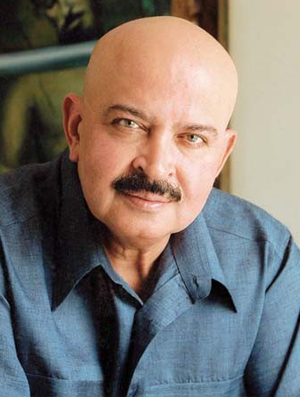 Rakesh Roshan is undoubtedly one of the most intriguing filmmakers to have emerged from Hindi cinema over the past few decades. He is more than just the father of superstar Hrithik Roshan. He is someone who has devoted himself to making films as dramatic and exciting as possible for his viewers. Fans are certain that from the first shot to the closing frame that they will be entertained by a Rakesh Roshan film. Therefore, to celebrate his staggering 40 year career, Bollyspice presents to you a special feature on the great man that is Mr Rakesh Roshan!
Rakesh Roshan initially started out as an actor, but was not very successful within this field. He would go onto pursue a career in directing and made his debut in 1987 with Khudgarz, which starred Jeetendra, Shatrughan Sinha and Amrita Singh in pivotal roles. The film became one of the highest grossing films of that year and gave Rakesh Roshan his first major successful film. He then followed this up with Khoon Bhari Maang (1988), which is centered on a woman who is out to get revenge on her gold-digging husband for attempting to kill her in order to attain her wealth. Superstar Rekha starred in this woman-oriented film and it is remembered today for being one of the finest performances she has delivered during her illustrious career. No doubt, Rakesh Roshan's skillful direction helped give her character the precise shape and depth it needed in order to leave a lasting impact on the audiences. Rekha went onto win the Filmfare Best Actress Award for Khoon Bhari Maang and many critics today regularly cite this as one of her most memorable films.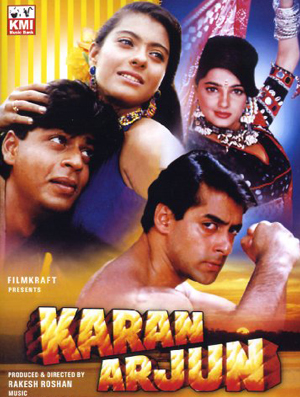 After the success of Khoon Bhari Maang, Rakesh Roshan directed films such as Kaala Bazaar (1989), Kishen Kanhaiya (1990) and Khel (1991). All three of these films starred Anil Kapoor as the male protagonist and he was paired opposite Madhuri Dixit in the latter two. He would then go onto work with Shah Rukh Khan in three big-budget films: King Uncle (1993), Karan Arjun (1995) and Koyla (1997). All three are regarded as some of Shah Rukh's most iconic films and to some extent, Rakesh Roshan played a major role in honing Shah Rukh's abilities as an actor. Karan Arjun is especially remembered for being the first time Shah Rukh and Salman Khan joined forces to star in a film which focuses on family, revenge and reincarnation. Karan Arjun is a true masala epic and Rakesh Roshan added hints of drama, violence, romance and even comedy in order to ensure that the audiences' experience of watching it would be an exhilarating one. It went onto to become the second highest grossing film during the year of its release and is considered to be a cult classic.
In 2000, Rakesh Roshan would launch his son Hrithik Roshan into the world of Bollywood with Kaho Na Pyaar Hai (2000). It also saw the debut of Ameesha Patel, with Hrithik taking on a double role in this romantic drama. Kaho Na Pyaar Hai became a sensational hit at the box office and catapulted Hrithik Roshan to superstardom overnight. The film went on to win eight Filmfare Awards, including Best Director for Rakesh Roshan and Best Actor and Best Male Debut for his son. Though the story line is nothing ground-breaking, it became a huge hit due to Hrithik's super-awesome acting and dance skills. It cannot be said for sure, but the fact that his father was directing Kaho Na Pyaar Hai might have been the key reason why Hrithik was able to exude so much confidence on screen for the first time. He was perhaps able to get under the skin of his characters in a more comfortable manner and with less pressure. Had it been someone else directing him, perhaps his launch may not have been so rock steady. Rakesh Roshan eventually got the end-result he wanted with Kaho Na Pyaar Hai: he helped transform his son's dreams of becoming a superstar into a reality.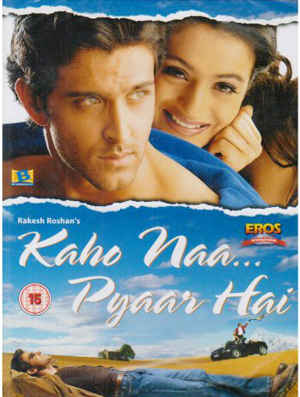 Rakesh Roshan would work again with his son Hrithik in Koi Mil Gaya (2004). Hrithik was paired opposite Preity Zinta in this sci-fi film, which also starred Rekha in a supporting role. The film is centered on a mentally-disabled young man, who uncovers the existence of aliens after having communicated with one of them through a computer program. Koi Mil Gaya became an unexpected critical and commercial hit, with Hrithik especially winning praise for his superb and authentic performance. Rakesh Roshan deserves credit for popularizing the sci-fi genre in Hindi cinema, something which only he and Shekhar Kapur (for Mr. India) have managed to achieve. The film scooped up five Filmfare Awards, including Best Film, Best Director and Best Actor. It arguably helped to consolidate Rakesh Roshan's own position within the industry and proved that he could still make films which are relevant today.
Following the success of Koi Mil Gaya, Rakesh Roshan decided to make a sequel to this titled Krrish. It was one of the early superhero films to have emerged in Indian cinema and became a popular hit with the audiences. You do not necessarily have to watch Koi Mil Gaya in order to watch and understand Krrish, since there is only a small interlink between the two films. Hrithik is of course the male protagonist in Krrish, which also starred Priyanka Chopra as his love interest. It received mixed reviews from the critics, but was praised for its phenomenal special effects and considered by many to be a path-breaking moment for Indian cinema. Though Krrish is not one of Rakesh Roshan's greatest works, he proved that he was a risk-taker, by deciding to direct and produce this big-budget film. Krrish 3 is now officially in the making and will be releasing in Diwali 2013, with the original cast also returning.
Now celebrating 40 years of working in the film industry, Rakesh Roshan has contributed immensely towards Hindi cinema, by making his films rich and entertaining for the audiences. He has exhibited romance, realism and even fantasy through his work and surely, they will come to be revered and admired by future generations. Although Rakesh Roshan is not one of the finest filmmakers in Bollywood, he has proven that with hard work and a solid understanding of the audiences' tastes, you can craft some truly outstanding cinema which will acquire global appreciation.
Congratulations to Mr Rakesh Roshan for successfully completing 40 years in Bollywood!