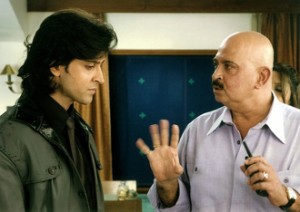 Since the first day of release for Krrish in 2006, fans have been clamoring to know about the next film in the Krrish story series. It has been a long wait, but finally we are getting some news about this highly anticipated film. Rakesh Roshan recently gave an interview and gave away a few tidbits about the film, however not nearly enough! Here are some highlights.
Though it seems like it should be called Krrish 2, it is actually Krrish 3. Mr. Roshan explained, "It's a trilogy. Koi…Mil Gaya was the first, Krrish was the second, so the third in the trilogy will be Krrish 3. I know I will have to explain this to a lot of people because they will wonder what happened to Krrish 2."
Like in Krrish, Hrithik will play three different roles, however it is actually only 2 people. Once again we go to the director who clarified, "In Krrish 3, Hrithik will play Rohit (the father) and Krishna (the son) who has the split personalities of Krishna and Krrish. It is not a triple role; it's a double role. Krishna is the normal guy who goes to work like any regular young man and he becomes Krrish to save people… yes, like Superman. It's a very difficult proposition since Krrish 3 has a lot of father and son scenes."
Starring opposite Hrithik will be Priyanka Chopra once again, but taking on the bad guy role is Vivek Oberoi. "We needed a strong opponent and Vivek is a fantastic actor," the director said. Apparently Vivek has been going through some rigorous training for his role. He also has had several meeting with the director to discuss his looks, his prosthetics and that final battle that we hear is going to be epic.
Originally the film also starred Chitrangada Singh but she had to drop out because of date problems and so the role went to Jacqueline Fernandez. Apparently Hrithik was the one that suggested Jacqueline for the part.
The good news is that the film goes to the floor in December in Mumbai and then the various shooting schedules continue throughout 2012, "In January, February and March I am going to shoot in Hyderabad. April, May and June will once again be in Mumbai. After small cuts in July and August, we will go to Switzerland in October 2012 for 8 to 10 days."
The scale, the story and ideas he has for what he wants special effects wise is going to make Krrish 3 a challenging film to make and is what Roshan says is keeping him up nights, "Krrish 3 is too difficult a film to make. I am entering a territory which I am not very familiar with and which is not in my hands. Like all the special effects shots are not in my control. It is those technical guys who are going to guide me and the special effects have to be of the level that I have visualised. But I went through the same process when I started Koi…Mil Gaya. It happened again when I went into Krrish. Now Krrish 3 gives me restless, sleepless nights but in a way it is good because it keeps me alert. I am not relaxed. I am constantly trying to rectify, read up, watch new things, look up references. I am learning every day. To make a simple film like Kaamchor would be so easy for me today. But then I won't be proving anything new with it. Besides, where's the challenge?"
They also may take on the challenge of converting the film from 2D to 3D but that won't be decided until later, "We will shoot in 2D and take a call in 2013, depending on how 3D works two years from now."
Now are you ready for the bad news? We have to wait quite a bit until we will get to see the final project! With so much involved Krrish 3 will not be released until November 1, 2013, but that is a locked in date! "It will definitely come on Diwali. Usually I release my films either in January or June. This time I have planned a Diwali release. Even if the movie is ready, I will wait until Diwali to release Krrish 3."
We will of course be watching and reporting all the news we can about Krrish 3 so stay tuned to BollySpice.com.