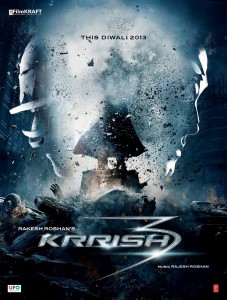 Nowadays multiplexes in India are charging a fee to attach the trailer of a forthcoming film and the promotional materials like the standees back lit displays at their cinemas.
However, multiplex owners made an exception for Rakesh Roshan's Krrish 3 as a good gesture.
Rakesh Roshan has been receiving calls for the past few days that multiplexes are willing to attach the trailer of Krrish 3 free of cost as well as free display of promotional materials.
As the movie is likely to set its mark at the box office. It will be a win – win situation for both.
Krrish 3 releases in UK cinemas and worldwide on 4th November 2013.