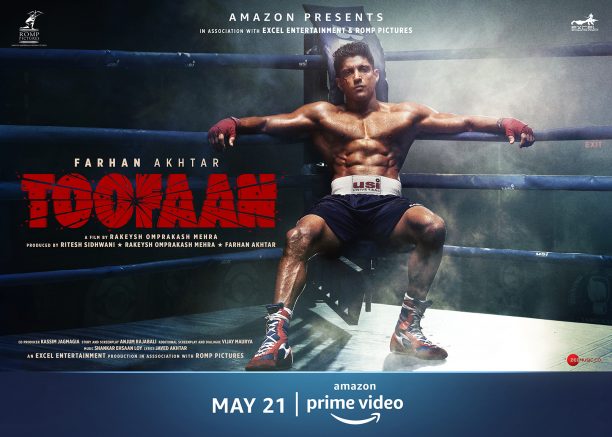 Rakeysh Omprakash Mehra's Toofaan presented by Amazon in association with Excel Entertainment and ROMP Pictures and set to release on May 21st is among the most anticipated films in the country today. The film, starring Farhan Akhtar, Mrunal Thakur, Paresh Rawal and a talented ensemble star cast, tells the story of a reformed goon from the streets of Mumbai slums who seeks to make a name for himself in the sport of boxing. The drama takes audiences on a journey of his fall to his triumphant comeback.
The director and the Toofan team believe that the sports drama will appeal to a global audience, thanks to its subject and the underlying message.
Talking about the film, director Rakeysh Omprakash Mehra says, "Toofaan is a story of an underdog and most importantly, it's a story about spreading love rather than creating differences. Every country, whether rich or poor, is going through some issue or the other and we all carry wounds. Toofaan is not an attempt to scratch those wounds but to apply a soothing balm. Anybody from any part of the world will identify with that."
Adding that, "Boxing is one of the most famous sports in the world – America, South America, Russia and Europe among others are all boxing countries. So there is identification with the film all over the world."
Apart from shedding light on the indomitable spirit of people and taking on the subject of a global sport like boxing, Rakeysh Omprakash Mehra also explains how the film exemplifies women empowerment. "Toofaan also has a very strong and assertive role of the female protagonist. While we've seen the emergence of female power in the last decade, there are miles to go. We have to question and shed our beliefs of how we look at the other sex and our biases and Mrunal's role as Ananya does just that. The diaspora around and especially women will relate to it."
Toofaan, the inspirational sports drama produced by Ritesh Sidhwani, Rakeysh Omprakash Mehra & Farhan Akhtar will premiere on Amazon Prime Video – 21st May 2021.