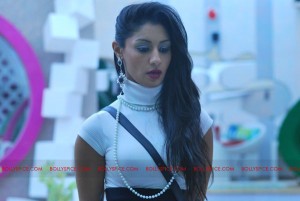 After participating in the first season of Bigg Boss, Rakhi Sawant has become an ardent admirer of the reality show. So excited is she that Rakhi is glued to the idiot box every evening, munching snacks and watching the developments with crossed fingers.
She has only one wish: "Mahek Chahal should win Bigg Boss this year. Aur main chahti hoon ki uska Swayamwar bhi ho!"
Ask her why and she shoots, "Mahek is an item girl just like me, so I identify with her. She is beautiful and talented. She is a good dancer and has the oomph factor. We almost started our careers together, so I have a soft corner for her and can't see her lose."
We do not know about others, but Mahek's good friend Salman Khan, who seems to have vowed to help Mahek win this season, would surely be happy with Rakhi for supporting her.