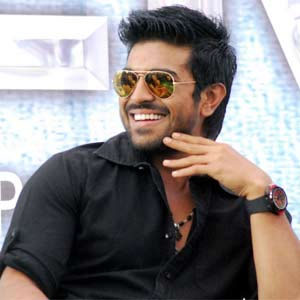 Ram Charan Teja and Priyanka Chopra starrer Zanjeer is all set to release on September 6th in Hindi and Telugu languages. Interestingly, Ram Charan was unsure of making his Hindi debut with the Apoorva Lakhia directorial. When the dashing actor was approached to play Vijay in the remake of the 1973 blockbuster he was hesitant at first.
"I was in two minds when I was approached for the film. I could not decide whether to do the film or not as it was a remake of a hit Amitabh Bachchan film," admits the 28-year-old in an interview given to PTI.
Ram Charan Teja's father Chiranjeevi who is a huge superstar himself had to convince his son to take up the project.
"I was aware that there would be a lot of expectations. I even thought of rejecting the offer, but it was dad who made me sign the film. He told me that I should only reject a film if the script is bad and not because I am scared to try something new. He made me realise that offers like this don't come every day," informed Ram Charan.
Best known for his role in the Telugu super hit Magadheera the actor expresses his surprise for being chosen to star in the remake of a cult movie like Zanjeer.
"I was taken aback when I was offered this film. I know it is a remake of a film which was path-breaking in every possible way. When I read the adaptation I was very impressed," he said.
The Telugu star could be seen in more Bollywood movies in the future. "I am really happy to venture into something new right now. I can hardly wait to see the reaction of the audience as I have worked very hard. I have been offered some very good scripts," Teja summed up.