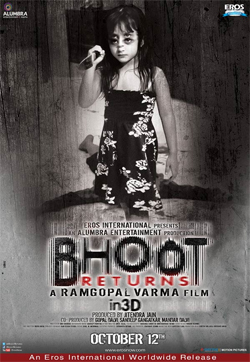 Ram Gopal Varma has given the Bollywood industry some big films over the years. He has directed, written and produced films across multiple genres – psychological thrillers, underworld warfare, fiction, politics-nexus and experimental films in various languages. His horror films have also been quite a revelation as he has introduced some path-breaking horror films in Indian Cinema.
Right from the year 1992, when Raat was released, which is still considered one of the best horror films made in Bollywood; RGV has never let his audiences down with this genre.
In 2003 again, Ajay Devgn and Urmila Matondkar's Bhoot was a hit. Both of them won awards for their outstanding performances. There is no denial in the fact that Ram Gopal Varma has given a list of horror films and recreated the genre with his creativity and visualization.
His other note worthy films in this genre includes Vaastu Shastra (2004), Phoonk (2008) and Darna Mana Hai (2003) among many more. RGV has never got it wrong with this array of film-making, and now he is all set to revive the magic of Bhoot with Bhoot Returns. The movie marks the comeback of veteran actress Manisha Koirala, the film also features JD Chakravarthy, Madhu Shalini and child actor Alayana Sharma.
Bhoot Returns has created quite a buzz as the audiences are excited to see RGV's next horror flick. Produced by Ram Gopal Varma and Alumbra Productions, the film is slated to release on the 12th of October.