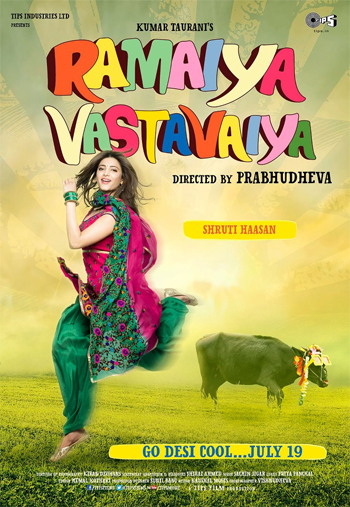 If anyone is on a high from success, its Sachin Jigar. With ABCD still doing the rounds and Go Goa Gone taking over the airwaves, does the duo muster up for (another) hattrick? Hot off the press.. well, iTunes actually, we have Girish Kumar's debut film with Shruti Hassan, Ramaiya Vasthavaiyya.
Straight off the bat, we have a duet with Jeene Laga Hoon. It has the Atif Aslam effect. Soul stirring and oozing with sensuality. The rhythm is even paced and is completely for the melody lover. Shreya Ghosal pipes in for her routine sweetness thrills but after about the 3rd or 4th listen, you get the feeling this is an Atif number. Having said, the two are almost pitch perfect for the lovesick newbie lovers as described in the lyrics. Romantics are the target and it works.
After hearing Hip Hop Pammi, its obvious this one is for the clubs. Loud, lots of toing toing dhol and very catchy chorus. Towards the end, it even shifts into its own bass beat pumped up remix version. Yet besides the intrigue for what the visuals will be (Prabhudheva is said to be shaking a leg with Jacqueline Fernandez but no promos yet to determine if this is the item number in question), Mika Singh and Monal Thakur aren't able to save this one. All the Pammis out there may get a kick out of having a song with their name in it but its not rocket science nor amazing. Pretty average and disappointing for the first dance track on the album. Yawn.
Back to melodies, Bairiya is another duet with Shreya Ghosal and Atif Aslam, and again complimenting each other quite well. Even if you get instantly attached to Priya Panchal's lyrics, the song actually takes 2-3 listens before it sits comfortably on the ears and has you humming along. Sachin-Jigar maintain the slow pace to form the main beat then raise for the chorus without getting too loud since this a soft number. The percussion has a American western twang in it initially but smoothly transitions to desiness and from there on, its all love. .
Peecha Chhute is a bit of a throw back to the village visitor tracks associated to 80-mid 90s but actually talks about a boy looking for his heart and the girl who stole it, instead of how beautiful the village surroundings are. A peppy little  desi number updated a tad with the drum beat, yet you can picture the ukulele-ish violin hero in the fields. And of course, the versatile Mohit Chauhan on the mike for good measure and you have an easy listen to tap your feet to, with the occasional Rama Rama in the background. Possibly the only time a portion of the title comes up.
If the peppy, happy feel on the album was a bit dominating for you, Rang Jo Lagyo is different in tuning and feel. Third time collaboration, Shreya Ghosal is a little tame while  Atif Aslam goes gung ho with Priya's proving my worth expose but it does get a bit loud in a live rock band kind of way. Even if you look Atif for help, its distracting since its one of the longer songs. This may be due to the visuals making up for the gap but on its own, it can grate on you. Not entirely bad but not exactly special enough to remember afterwards.
Pinching the phrasing from Munnabhai MBBS, Jadoo Ki Jhappi has 2 versions with both Mika Singh and Neha Kakkar on both.  Not much of a difference tune wise but Neha dominated version 1 and there is definitely a more defined wedding/baraatish feel to version 2. This has a party on its own effect on version 2. Either way, fun and dancey number is on the menu. Mika Singh as usual, is charming the Punjabi pants off the lyrics and Neha Kakkar is returning to the mike after what feels like ages although we just heard her on Second Hand Jawani. The two bounce off each other well and could possibly be the new singing Jodi for desi item numbers. Not much room for Priya's pen on this one either but will be accepted with open arms at your next wedding affair.
So now comes to the final verdict. A perfect world would have awesome music and equally amazing lyrics. But this isnt it. Honestly speaking, this isn't Sachin-Jigar's best, but where they have a complex setup or major western influence in their previous work, barring Hip Hop Pammi, the desiness dominates badly on this one and its kept simple. Which is majorly welcomed. I'd love to dwell on the music alone but besides the melody and rhythm, there is a little gap in the lyrics. My pick? For the long run the whole album but for now, Jeena Laga Hoon and Jadoo Ki Jhappi.