Instead of being a preview, this is more of a if-you-have-been-under-a-rock-here's-the-deal kind of piece. Hence the title.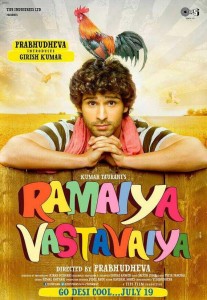 Take it from me, the film crazy romantic fool, when I say that there is always another love story our Btown directors want to explore. And with the remake mania going on, there should be no surprise when you hear Ramaiyya Vasthavaiyya came from the Telugu Industry.
So what makes Ramaiyya Vasthavaiyya different? Well, I'll give you 3 reasons:
1. The film sees the debut of TIPS Kumar Taurani's son, Girish Kumar in the lead.
2. Although we have seen Shruti Hassan on screen before this can be considered her 2nd full length lead (Dil Toh Baccha Hai Ji is more like a special appearance).
And ..
3. (My personal favorite) The director is Mr Masala-Action-Magic himself, Prabhudheva.
However, it wouldn't be fair to say that is all. So here's some background on the movie. Prabhudheva was initially signed for Girish's debut film more than 2 years ago when father Kumar Taurani watched Wanted. But it was director saab that steered him away from action and towards his own debut film as director in Telugu, Nuvvovasthanate Nenoddantana, a story of lovers stuck between the love for their respective family members and for each other. The suggestion of the title was also made by Prabhu and translates to "Ram, will you come?". Not only does this come from the Hindi classic but happens to be a Telugu phrase and links back to the original film's language.
If anything can be learnt from Prabhu's filmography, it's that dance flows through his veins onto the screen so naturally, the charm of a dancer is infused in the characters one way or another. So to get Girish to sink into character, the actor has apparently undergone almost up to 6 months of training for a physical and dance-ical transformation under the guidance of Prabhudheva and South African expert Bruce Clessen.
Moving onto the ladies, first we have Shruti Hassan. After her debut in Luck, this the first time in Hindi Shruti goes total desi with her character, Sona, a girl brought up on a farm, and is said to have a touch of comic appeal to it too. A candid shot of her look (in an obscure way) was posted on Twitter by the director back in September last year. The film will also see the return of Poonam Dhillon after Dil Bole Hadippa and Jacqueline Fernandez in a cameo appearance alongside Prabhudheva himself. Yet this is just the cast.
We still have the music directors, Sachin Jigar after the success of ABCD and joining hands with Prabhudheva again, behind the camera.
Now I can go on and on about the original, Nuvvosthanante Nenoddantana, but from the looks of things, Prabhudheva has done quite a bit of shape-shifting on this one. Nevertheless, it's been a while since a desi based love story has come out. So to catch onto to the romance and dance to the arrival of Ram (Girish's character's name in the film), walk into the theater halls on July 19th.