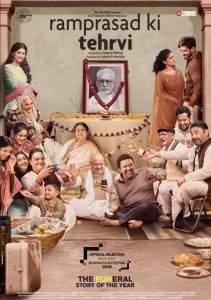 Ramprasad Ki Tehrvi
Starring: Naseeruddin Shah,Vikrant Massey, Konkona Sen Sharma, Vinay Pathak, Supriya Pathak and Vineet Kumar
Written & Directed by Seema Pahwa
What a wonderful way for Indian cinema to begin the year! Let me say straightaway that Ramprasad Ki Tehrvi is a very fine film, and a spectacular start not just to this year, but also to veteran actress Seema Pahwa's career as a director. Her understanding of the basically selfish selfserving nature of humankind is so deep, amd so bang-on that five minutes into the film I felt I was sitting awkwardly as part of Ramprasad's grieving family, their sickening squabbles over tea and bathroom time, and later on, their bickering over their father's property, all so lived-in so real it is hurtful even while it is amusing to the extreme.
Some critics have commented on the large number of characters, and how difficult it is to figure out who's who. Nonsense! We are for too long inured in spoonfeeding tactics. It is our duty and obligation to give a film our complete attention when it deserves it, to surrender to the cast of characters unquestioningly.
Seema Pahwa's writing is razor-sharp and crystal-clear. Even the smallest of characters have a life of their own. The domestic politics is never over-punctuated. It emerges from the deep creases and crevices of bereavement like pebbles from the bottom of a tranquil stream.
Most of the time, Ms Pahwa knows when to draw the line. The narrative pulls out of an argument, no matter how heated, before its gets too hot to handle. This is not to say that she leaves the characters and their grievances stranded or unfinished. The wise and articulate construct of the dynamics of bereavement makes plenty of room for mood shifts and yet there is a consistency and a continuity to the 'family tragedy', as defined once by Tolstoy.
Lucknow where the rites of passage are held is treated not as a city of marvelous experiences but a mere tool in the hands of the people who live there. The director threads her way through the characters, Ramprasad's genuinely grieving wife (Supriya Pathak, so stately and supremely immersed in the tragedy) and his six children: four sons and two daughters each played with unsurpassable scrupulosity by Manoj Pahwa, Ninad Kamath, Vinay Pathak, Parambrata Chattopadhyay, Anubha Fatehpuri and Sarika Singh. Each of these characters plunges into his or her part wholeheartedly unconditionally and non-judgementally. Since I haven't seen much of Ms Fatehpuri's work before she is a special revelation. The mercurial changes in mood are recorded with a casual grace that comes naturally to a director who knows her milieu only to well.
Other stand-out performances come from Konkona Sen Sharma as the youngest son's disgruntled wife and Vikrant Massey as the eldest son's son. The two share a dangerous complicated relationship that could snowball into a sequel. I wouldn't mind, as long Naseeruddin Shah returns from the dead. His strong presence is felt throughout this spirited vivacious gentle and occasionally vicious film (the drunken eldest son telling his brothers that he had seen his parents "doing it" will make you squirm) on death and its aftermath when every bereaved sits down to do the math.