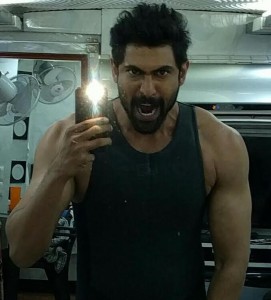 Rana Daggubati, who plays a Naval officer in the trilingual Ghazi, India's first sub marine-based war film, has been shooting non-stop ever since the highly anticipated movie went on the floors in January. The period drama revolves around the mysterious disappearance of Pakistan's premiere ship, PNS Ghazi, near the eastern coast of India, en route to the Bay of Bengal, during the 1971 Indo-Pak war.
Rana who is a certified diver recently shot for a major underwater war sequence for the film. Being a certified diver he didn't require any underwater lessons for the film did, however, rehearse a bit before canning the final shots.
Talking about the experience Rana said, "We began shooting on January 3 with the schedule drawing to a close on Tuesday. Two submarines have been created in a large pool in Hyderabad. I am currently on a 12-day break and will resume shooting from March 10 for a start-to-finish schedule. I am quite good at diving but the last time I did it was around four years ago. It was shot over three days and required me to be underwater from six in the morning to two in the night. It was taxing but I was committed to giving it my best. The fact that it's a first of its kind movie motivates me to keep working hard. Even for Bahubali the entire team was quite kicked about shooting action sequences over 120 days, a first for a movie, "he reminisces.
There may not have been heavy-duty physical prep involved for the war drama but Rana did have to lose a few kilos. "I was quite bulked up for Bahubali so I had to shed some weight. I also underwent agility training as part of my prep," he says. The trilingual is being shot in Hindi and Telugu and will be dubbed in Tamil.
The actor's research also involved meeting Indian naval officers, in particular those on board the Indian naval ship. "My father helped me get in touch with many of them including those on INS Vikrant at the time."