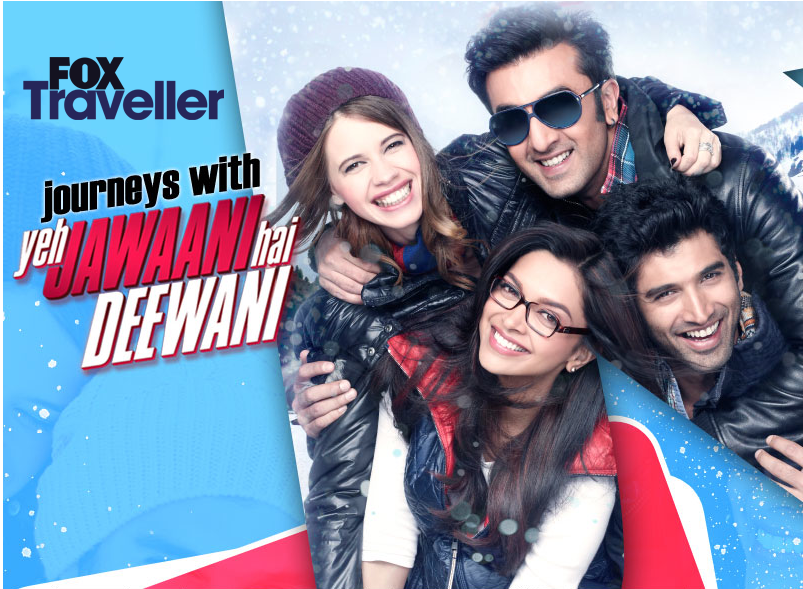 Fun journeys, adventure, and now a bit of spicy filmi tadka! Travel and lifestyle channel FOX Traveller is all set for a Bollywood rendezvous with Dharma Productions' Yeh Jawaani Hai Deewani starring Ranbir Kapoor, Deepika Padukone, Kalki Kochelin and Aditya Roy Kapur.
Releasing worldwide on 31st May, the movie will see Ranbir playing a charming travel buff Bunny, who is a FOX Traveller videographer. As a part of this association, the FOX Traveller crew travelled with the Yeh Jawaani Hai Deewani team to destinations like Manali, Mumbai, Udaipur and Paris to capture exhilarating filming moments.
Also, FOX Traveller has launched an interesting social media initiative on Facebook. In this contest, Ranbir aka Bunny invites viewers and fans to share their crazy or memorable travel stories. He will then select the best travel stories, which will be showcased on FOX Traveller. Viewers can participate by logging on to www.facebook.com/foxtraveller.
About the association, Debarpita Banerjee, Vice-President — Marketing, FOX International Channels, says, "Yeh Jawaani Hai Deewani celebrates the values FOX Traveller embodies: a fun journey that celebrates the mundane, where friends sit back and enjoy what life has to offer. Our association with Dharma Productions was a natural progression as we saw synergies in our content and what we epitomise — life's ordinary moments that are memorable. Ranbir Kapoor plays Bunny, who is a FOX Traveller videographer bitten by the travel bug, who rejoices every moment of his life."
Commenting on the same, Ranbir says, "My character is someone every traveller desires to be. He is carefree, has a passion for adventure and wants to capture every moment of his journey. The association with FOX Traveller has been great — their team travelled with us and we bonded as travel enthusiasts."
Ranbir Kapoor is currently in London to promote Yeh Jawaani Hai Deewani, directed by Ayaan Mukherji. Stay tuned we will have a full report!