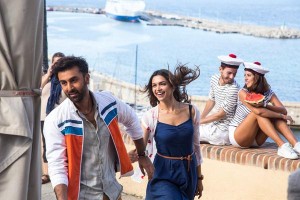 There is a particular sense and sensibility that Imtiaz Ali's films carry. While Jab We Met stays on to be his most wholesome entertainer till date, there is a certain pattern that each of his other three popular films (leaving Socha Na Tha) aside carry, be it Love Aaj Kal, Rockstar or Highway. They carry elements between hardcore mainstream and artistic treatment with just the percentages of distribution differing. Love Aaj Kal was more mainstream, Highway took a festival route while Rockstar tried to strike a balance between the two.
Now with Tamasha, one again gains an impression of a mainstream film in the offering which has a definite director's treatment to it right through. Moreover, with Sajid Nadiadwala in there for whom Tamasha is indeed that BIG film of 2015, you know for sure that the resources provided to make the film are as lavish, abundant and classy as one expects from his banner.
For starters, Tamasha comes across as a film 'with a story'. Now that by itself seems like quite a bargain in today's times when something as basic as this seems like a privilege. With an enticing tagline of 'Why always the same story?', one can well gauge Imtiaz Ali's ambition of narrating a 'never heard or seen before' tale. While this is indeed challenging enough, he has pretty much spelled it out, albeit in concealed measure, that Tamasha would most certainly not turn out to be 'just another' tale.
So Ranbir begins to narrate a tale (is it his own, or a figment of imagination, is something that is waiting to be explored) where Deepika makes an entry. An antithesis of Naina Talwar [Yeh Jawaani Hai Deewani] who is not yet Veronica [Cocktail], this young woman is willing to live life and fall in love. However, in a complicated love story which is in the offering, Tamasha appears to be moving much ahead of the other rom-coms that have already been served earlier, and instead takes a mature turn for the better.
It is remarkable to see how Tamasha relies entirely on its two lead protagonists to drive home the message. It doesn't take the frivolous route but keeps a safe distance from revealing everything as well. In short, it gives a clear indication that this is something new in the offering and audience can well expect a few unexpected twists and turns in the story.
As for A.R. Rahman's music, it comes across as more of an accompanying than an intruding companion, which is always a good thing when it comes to the long shelf life of a musical soundtrack.
Meanwhile, Sajid Nadiadwala – with his love for making films intact – has clearly played his producer's role well by mounting his love story on a scale that justifies the 'biggie' tag that Tamasha comes with. For a filmmaker who has time and again thought big, Sajid has taken the film to those corners of the world that have been hitherto unexplored.
I for sure Googled 'Corsica' and realized that it is an island in the Mediterranean Sea belonging to France!