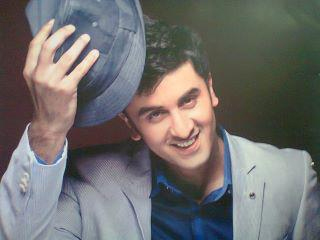 2013 will be a busy year for one of the most talented actors of this generation, Ranbir Kapoor. Ranbir recently shot for Ayan Mukherjee's Yeh Jawaani Hai Deewani in Kashmir with his co-star Deepika Padukone.
The romantic comedy is said to be a tribute to the cinema of Nasir Hussain, who directed classics such as Hum Kisise Kum Nahin and Yaadon Ki Baaraat.
Yeh Jawaani Hai Deewani has been filmed at places such as Kongdori in Gulmarg, Pahalgam, Manali, Udaipur and Srinagar. Pritam, who is working with Dharma Productions for the first time in his career, composes the music of the film.
On February 6th, Ranbir and Deepika shot for the posters of the film, which will be released mid February. The film is scheduled for a release on 31st of May.
Currently Ranbir is also working on Abhinav Kashyap's Besharam, in which he plays a thief. This film will release in October 2013. Not much is known about the movie, except that Lalit Pandit is composing the music.
The first poster of the film released in 2013 and its tagline read: "Na Samman Ka Moh, Na Apmaan Ka Bhay", which can be translated as "No Lust For Respect, No Fear Of Disrespect". The reason we are all are eagerly waiting for this film is that for the first time, Ranbir Kapoor will star alongside his parents, though they will not play his parents in the movie.
After wrapping up Besharam, it is reported that Ranbir would start shooting for this new film he has signed, titled Roy. Vicky Singh will direct the film. This film will bring together Ranbir Kapoor and Jaqueline Fernandez. Actor Arjun Rampal will be seen in a cameo. Recently reports suggested that the director is still on the outlook for a second female lead.
These are the films Ranbir Kapoor is supposed to do this year. But there is more. There are three films, which are still in their pre-production phase. These films are: Anurag Kashyap's Bombay Velvet, in which we will see Ranbir pair up with Anushka Sharma for the first time. This film will also mark Ranbir's debut as a producer. Next up is Imtiaz Ali's next. After Rockstar the duo has decided to do another film together. And with the magic we have seen with their award-winning film, we cannot wait to see what they will have to offer us this time. And last but not least there is Anurag Basu's ambitious project on the life of entertainer Kishore Kumar. It was reported that Ranbir would start shooting for this film right after Besharam, but as Ranbir would have to gain some weight for this part, its not clear when they will start shooting. Then of course, the heroines have not been finalized yet.
All these roles sound sooo very interesting and exciting. One thing is for sure, this is one actor who will leave us spellbound with his performances.