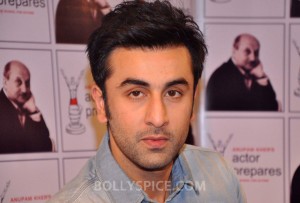 After several box-office hits, Ranbir Kapoor certainly was on a role but then he had to face one of his films flopping at the box office. Despite the fact his latest film was not the success that was expected, the actor does not regret doing Besharam.
"I don't regret doing the film. All films can't be hit. My first film Saawariya was also a flop. There is no hit formula. I don't know if there is a hit formula", he said at a Philips event. Instead, Kapoor prefers to stay positive and values the experience of working with his parents and director Abhinav Kashiap. As he added, "I have done mistakes and try and learn from it. I have seen success, failure both and wherever I am today professionally is because of my success and failure."
Kapoor's next project is Bombay Velvet, where he plays the role of a street-fighter. Directed by Anurag Kashiap, the film also features Anushka Sharma as well as Karan Johar as the antagonist. Based on Gyan Prakash's Mumbai Fables, Bombay Velvet is set in the 1960s and shows the story of how the city became a metropolis. This film is the first of a trilogy, as planned by Kashyap. Kapoor recently confirmed that 40 percent of the film has been completed and it will release on December 2014.
Ranbir Kapoor is also keen to repeat Barfi's success, as his following film will be Anurag Basu's Jagga Jasoos, whose filming is scheduled to start in November.