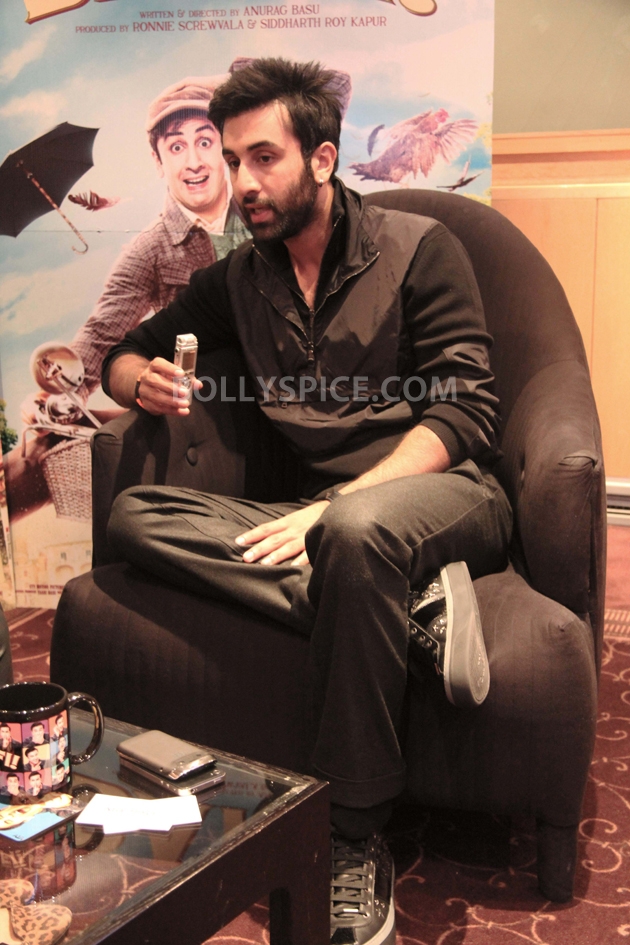 Ranbir Kapoor is all set to light up the big screen on the 14th September with his next film release Barfi.
The romantic comedy directed by Anurag Basu sees Ranbir Kapoor paired opposite Priyanka Chopra, for the second time, and sees southern actress Ileana D'Cruz make her Bollywood debut.
Bollyspice.com caught up with Ranbir Kapoor who was recently in London promoting the movie. The actor told us all about working on Barfi, reviving the RK Banner and revealed an unusual phoebe.
What attracted you to the script of Barfi?
Anurag Basu, the director, he really had a story to tell. He has this really childlike, infectious quality about him, which really translated in the script, in the story he was trying to tell. I was really, very impressed by that. I think that has always been my criteria to signing a movie, of course the script and the character has to excite me, but also if the director has something to say, and Anurag Basu definitely had something to say.
You play the role of a boy who is hearing and speech-impaired, was there anything special you had to do to prepare for the role?
Not necessarily, just because I play a character that can't hear and speak that doesn't mean that I did a lot of character work. It is not the kind of character who hinges on that. That is incidental in this film that he cannot hear or speak. It was a load of fun because Basu and me jointly decided that we are going to make this character a lot of fun. We are going to model him on the lines of Chaplin, Mr Bean, Buster Keaton and play him like that. A lot of dumb charades, a lot of physical comedy, a lot of physical antics, express yourself physically. It was very different for me. I came from a very intense film, like Rockstar, to a very sunshine kind of a film like Barfi. The change, initially I had trouble with it but once we put it aside it was really a fun ride for me.
Can you relate to your character in any way, as Barfi seems to be quite a happy go lucky character?
Of course, you have to relate to something in every film and that is the only way an actor can really surrender himself to a part. I don't know people like him, people like Jordan in Rockstar, or the characters in other films I have done. With the directors vision, the script, the character written and your imagination, you probably have to sit and also on a daily basis on set work at it, struggle with it, not know if you are doing right or wrong. That's the fun of movies that you can really take that chance, take that risk and have fun with it.
Your character in Barfi is said to draw inspiration from your grandfather, Raj Kapoor ji. How do you feel about the comparisons that are going to be made?
I am not scared of the comparisons; yes he is my Grandfather, I am his blood. He himself was very inspired by Chaplin's work, so it all stems from that. Because Chaplin had his movies, they were silent films and he expressed so much with the comedy, the kind of stories he wrote, they were simple. This movie is a bit like that; it's like a Chaplin film. A bittersweet love story, romantic comedy set in the 70s, of two physically disabled people, and it is how they make the most normal relationship, and done in a very comic way, done in a very endearing and engaging way.
If you could remake any of Raj Kapoor ji's films which would you choose and why?
To be honest I don't believe in remakes and especially not his work since I am a big fan of his work and I would only ruin it. But my favourite films of his would be Shree 420 and Jagte Raho.
Talking about your Grandfather, we have heard that you are considering reviving the RK banner; can you tell us more about this?
I am born to that legacy and it is my birthright to do something about it. I have just been really lazy, right now I am concentrating on my acting assignments so have not really worked at it. But that is top priority, to direct a movie for RK and to produce films under that banner. I just have to get my act together, just been really lazy so far.
This is the second time you will be seen on screen with Priyanka Chopra. You both shared a great on screen chemistry in Anjaana Anjaani. How did you find working with her this time round?
You know, like you said, the first time I worked with her was on Anjaana Anjaani which was a romantic comedy but of a very real, glamorous way. In this film when I saw her on the first few days in the character it really threw me off because it did not seem like her. It is a very hard part that she is playing, she is playing an autistic part and there is a very fine line that you could probably over act or you could really do it and surrender to the part. And she really did it amazingly well. It helped me so much as an actor, seeing your co-actor inspire you so much, giving so much to the part that your world, which is the film and the characters, it just makes it look so real that you eventually do your best. She has always been a fine talent, she is one of the finest talents we have in the film industry and she is only taking it forward with a lot of work, a lot of honesty and a lot of determination.
Ileana D'Cruz makes her Bollywood debut, how did you find working with her?
Lovely. I guess it was hard for her, she comes from the South Indian Film industry and she is coming into a movie which is not your regular Bollywood, singing, dancing, glamorous clothes kind of a film, it's a different genre film. It is amazing the amount of dignity, poise, beauty she brought to the part. She has got the best part. You see the entire movie through her, she is the protagonist and she did it with so much of ease. There is a lot of silence, even though she can talk, she has played the part with so much of silence, so much of depth that it just amazes me that someone at such a young age can understand life and the movie so well.
Who did you prefer working with out of Priyanka and Ileana?
Well both but I think I have always been turned on by the director more than anybody else, because that is who really challenges you. Especially if the director has something to say you are constantly trying to give, it is like a tug of war game, and contradict him or support him, trust him. So working with Anurag Basu has definitely been one of the most wonderful experiences.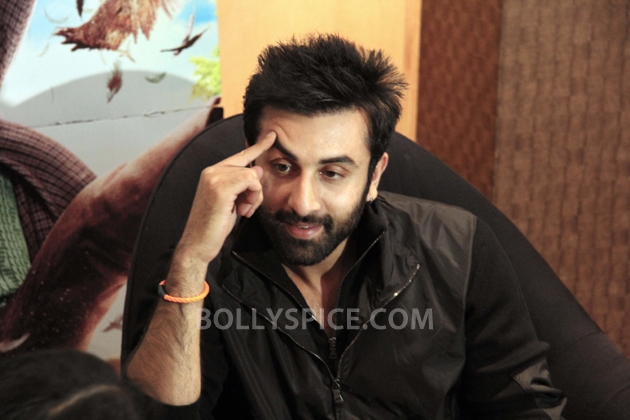 The music is doing well, which is your favourite track from the soundtrack?
Yeah, the music plays a big part in Barfi because it is like a fourth character, it is actually enhancing the characters mind and the characters feelings and what the characters are going through. I think Pritam has brought on a very subtle layer of happiness, joy and exhilaration through the music of this film.
The songs that I like are Phir Le Aya Dil by Rekha Bhardwaj, which has two/three versions on it, even Arijit Singh has done a version and he is amazing. Main Kya Karoon, which is a romantic song between me and Ileana. The title song Ala Barfi and Kyon, which is another song between me and Priyanka. I have actually named all the songs (he laughs) but I am quite greedy about the songs, I really like it!
Are there any funny behind the scenes moments you can share with us.
You know Anurag Basu himself is so childlike; PC is so much of fun to be around. So you know we have spent like 120 days on this film over a period of 6/7 months so it is really unfair to take one instance but this entire film has been so much fun. Especially for me because I had no dialogues to remember, I used to come on set and it was like playing dumb shots every day of my life. Have fun with the part, trying to create something, try to do something stupid, try to do something fun. I really had a great time working with Anurag Basu.
You have played comedy roles and then more serious roles, which do you prefer and why?
I don't have a fixed genre that I like; I would like to believe that I can do every genre. I do aspire to be the best at my work and that can only happen if I try different stuff, work with good minds, in act different characters, and work with good co-actors. I am not trying to typecast myself and play favourites to a genre. I haven't tried the action genre yet and I am really looking forward to doing that. So far I have really enjoyed every genre that I have done.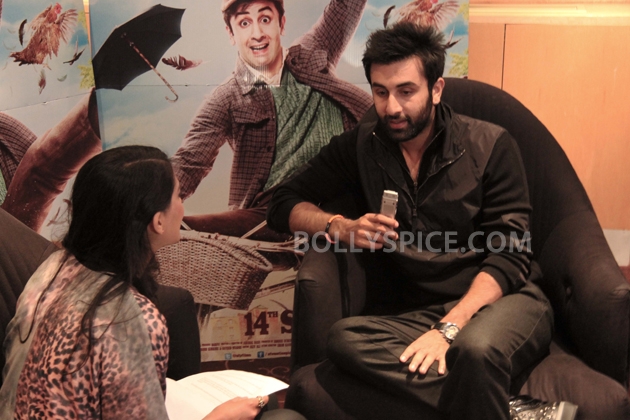 Why should audiences go watch Barfi? What do you think will appeal to them the most about the storyline?
I can't really say that, I can't dictate you know like go and watch this movie, but I guess if the promos are appealing, if you like the posters, if you like seeing me and PC on screen, you know it is a film we have worked very hard on. You know we don't take our jobs for granted, we understand film making is a very expensive medium and people spend a lot of money watching it so we don't want to waste people's time. We are just trying to put out the most engaging and endearing romantic comedy that we can come up and trying something new. So I hope that on 14th September the audiences give the movie a chance.
There is a trend at the moment to make sequels to popular films; in fact Raajneeti is having a sequel made. What do you think about this, do you think sequels should be made or they should not make sequels?
You only make a sequel if you have a story to tell, you can't make a sequel to itemise what you have done before. You know if you have a good story, good opportunities to take the story forward, and the characters forward then make it. I haven't really committed to any sequels of any films that I have done yet but, never say never, if something good comes about I would love to do it.
Out of the films you have starred in which one would you want to make a sequel too?
I would like to make a sequel to Rocket Singh, because no one saw the first part. So maybe if I make a part two out of it and do a good job then people would probably go back to part one! So yeah Rocket Singh!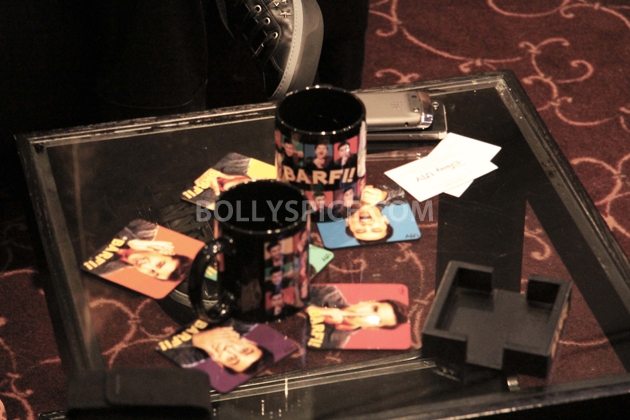 Something your fans would be surprised to know about you?
I have a bird phoebe; I get scared of birds…not much of a hero then!
What projects have you got coming up that you can tell us about?
I have a film called Yeh Jawani Hai Deewani coming up next that is with Deepika. It is directed by the same guy who I worked with on Wake Up Sid. It is purely a love story and should come out by March next year.
Finally have you got a message for your fans?
To be honest just thank you for all the love and support, it's amazing. Especially the people from UK have really been supportive towards Indian movies. The least we can do is repay back, reciprocate by giving out good films and entertaining you all and that is the endeavour. That is the endeavour with Barfi also and do catch it you know in a cinema near you on the 14th September it would be really kind.