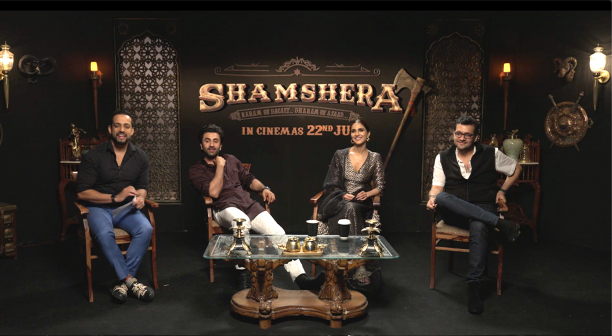 Audiences have been eagerly awaiting to see the action-adventure Shamshera come to life on the big screen and finally it will happen this Friday. Directed by Karan Malhotra, the film stars Ranbir Kapoor, Vani Kapoor, and Sanjay Dutt in the lead roles.
Set in the 1800s in the fictional town of Kaza, Shamshera showcases Ranbir Kapoor playing a larger-than-life quintessential Hindi film hero times two, both as Shamshera and his son Balli. He is pitted against Sanjay Dutt, whose character Shuddh Singh is an evil, ruthless, cold-hearted villain. It is a battle of good versus evil, and we will find out who triumphs in the end on July 22.
Shamshera was designed, created, and shot on a mammoth scale. It all began with a preparation period that was over one year. Then it took four months to build the colossal set utilizing hundreds of workers and crew members from many production departments. Finally, it took 140 days of filming to capture the visual spectacle like no other that is Shamshera.
At a recent virtual press conference, Ranbir Kapoor, Vaani Kapoor, and director Karan Malhotra talked about working together to bring the characters and the entire world of Shamshera to life.
Check it out

The action extravaganza, Shamshera, produced by Aditya Chopra, is set to release in Hindi, Tamil, and Telugu on July 22, 2022.
We certainly can't wait to see this film in all its glory!
Thank you, Ranbir Kapoor, Vaani Kapoor, and Karan Malhotra, for the wonderful answers!