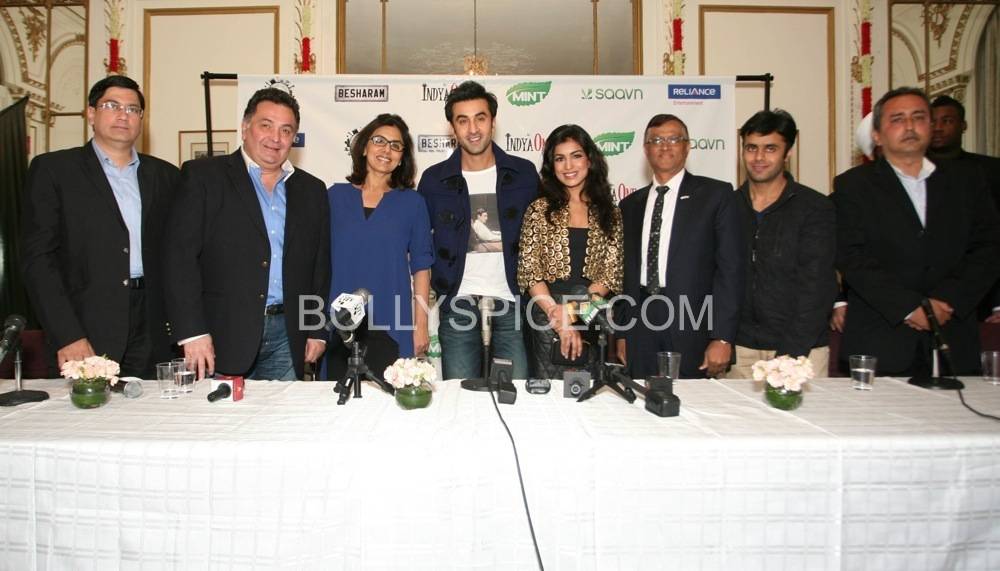 There is very little on this planet to rival the sheer magnetism of three Kapoors in one room. When Ranbir Kapoor, Rishi Kapoor and Neetu Singh Kapoor landed in New York City for the Besharam promotional tour, they bowled over fans and media alike. Joined by newcomer co-star Pallavi Sharda, producer Himanshu Mehra and Reliance executives, they entertained reporters at the press conference in typical Kapoor fashion- with e′lan, flamboyance tempered by humility and the charm always, always turned up a trillion notches.
BollySpice brings you snatches of the conversation with the Besharam team in New York.
What was your favorite memory of being on the sets with your respective fathers?
Rishi Kapoor (emotional): I'm very fortunate to have worked in three films with my late father Raj Kapoor – Mera Naam Joker, Bobby and Prem Rog. I cannot single out one memory of him, because with your father, all you've got is memories. He's always there for me in every way. And today whatever I am is because of him – not only because he was my biological father – he was my guru. Everything that I know of my craft today is only because of him.
Ranbir Kapoor: Well on a lighter note, in my real life I don't think I've ever looked into my father's eyes. So during the first scene we did together, I actually discovered his eye color. (laughter)
And there was so much conviction in what he was doing in that moment, in that scene, and it was so effortless and natural. Because sometimes when we act, we want to put in so much trying to over-express ourselves. But the naturalness and the spontaneity of him saying those lines to me…it helps actors so much because you just have to react to him and your performance will be enriched. So the first day when I had to look into his eyes was memorable for me.

What are your views on the "superstar" label?
Ranbir: The word superstar is highly overused. I do believe that the superstar tag might be dying because the mystery level of an actor is dying today. We are so easily accessible now, we're always on the news, promoting our films, doing endorsements. At one point, like when my father was working, there was a mystery level. When their films used to come out, audiences used to really wait for them. So that craving is dying.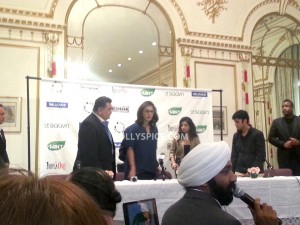 It's a good learning curve for actors of my generation. Today, being a good actor is being the new superstar. It's just being good at your work, it's not about playing the superstar card.
Rishi: The word "superstar" is just a media-made terminology and we've taken it a bit too seriously. We are all actors. An actor who succeeds in creating a flutter in your heart, who brings a smile on your face or a tear in your eye – I mean, he's the one who's achieved what he's supposed to do. That's what actors are all about.
How does one strategize how to release a film like Besharam in North America?
Himanshu Mehra (producer): Obviously it's a huge film. This film will be one of the largest releases ever done in North America. We hope to go over 200 screens. The average number of screens, just to set context, for a large film is about 150 and for a medium sized film is about 70 or 80 today. This will be the first film that will go over 200 on the day of release. This is a big film for everyone.
What was your experience like working with the Kapoors as a newcomer?
Pallavi Sharda: As fellow actors, they are the most gracious, supporting, humble people who never made me feel like a newcomer in the industry. Whenever I would go to set, I felt like one of them and if I ever had any questions, they were very forthcoming with advice. It comes back to values. It really taught me about longevity in a career and that it comes with one's values over anything else.
What is your opinion on Bollywood remakes? Would you ever remake any of Raj Kapoor's classic films?
Rishi: It's not important what I think of remaking films but I would not like to tamper with our classics. Classics are not supposed to be tampered with. I would not like to see a colorized Awara or a colorized Shree 420. In themselves, they are immortal films. They have their own identity. And audiences own these films. Raj Kapoor is public property – his work is public property. I would not like to see them being remade into films in today's times.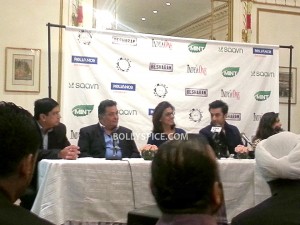 The lines between what used to be labeled "parallel" cinema and mainstream cinema are being blurred in today's times, whereas during your era there was a very clear delineation between the two schools of filmmaking. What are your views on this change? Would you have worked in a "parallel" film during your prime?
Rishi: "Parallel" is actually the right term for it. The films that don't entertain you, the films that bore you, that's what I call "parallel" cinema. If your government places an entertainment tax on a film and there's no entertainment in it, you have no right to make such a film. Show it for free, on television. Aadmi se paise leke kyun bore hote ho aap? (Why take money from people and bore them?) So I don't believe in it. If Barfi had been made in my time, it wouldn't have lasted even two shows.
And let me tell you, it takes a great amount of effort to "sing" songs and fight, it takes a great amount of energy.
Neetu ji, what kind of tips have you offered Ranbir as a mom?
Neetu Kapoor: Tips kuch nahin hota hai ji. You bring your child up in the right way, always teach them the right values, tell them what's right or wrong, guide them and not spoil them…I think that's very important, not spoiling your child. That's it. I didn't even know that my son would be an actor one day. I just left it to him, whatever he wanted to be. It's much later that we discovered that he wanted to be a film actor and he wanted to come to New York to study acting. And my husband was shocked but he said "yes, why not?" And that's how it all started.
Ranbir: Well it's not like you expected me to be a doctor or something.
Neetu: No I mean, we didn't know…he never showed an interest. I knew he would do something film related but….well, he was pretty young at that time.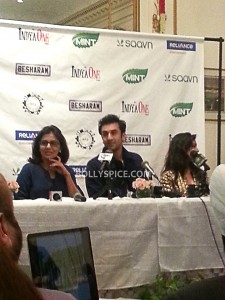 How do you feel when you see the female craze around your son?
Neetu: Tell me, how does any mother feel about that? Heart is full of pride. I feel so so so proud that I'm his mum and he's my son.
What was the most challenging scene you had to do in Besharam with your parents?
Ranbir: Well there was this one scene where I have to tie up my father and hurl abuses at him. So I've gagged his mouth and I've tied him up and I'm saying all these things to him…
How many takes for that scene?
Ranbir: I was very nervous, I tried to do it one take. (laughter) Unfortunately we did two or three takes. I was a little scared because he has a bit of a temper problem and it was very hot in Delhi at that time…but he was really amazing and we did three takes without any screaming.
Do you like working with Deepika or Katrina best? And will we ever see you in a collaboration with Shahid Kapoor?
Well I would love to work with Shahid, he's a dear friend. But unfortunately nobody has offered us a film together.
As for my favorite female co-star – and I say this with utmost honesty – it's Mrs. Neetu Kapoor. (laughter)

And finally, what is Bollywood minus the Kapoors?
Ranbir (after some thought and pleased as a punch): Bollywood without the Kapoors is like Superman without his red underwear.
Next set: Photo credit – Gunjesh Desai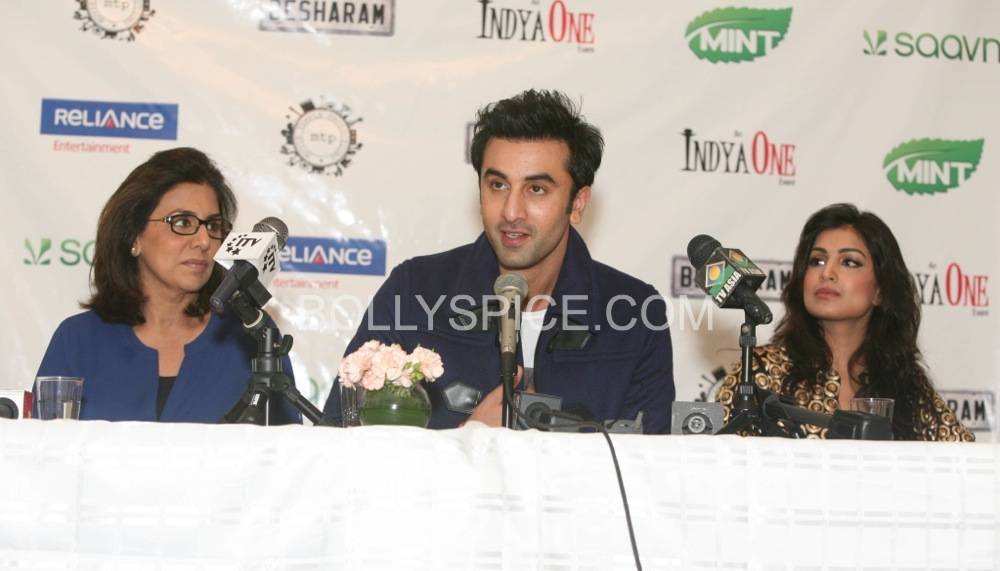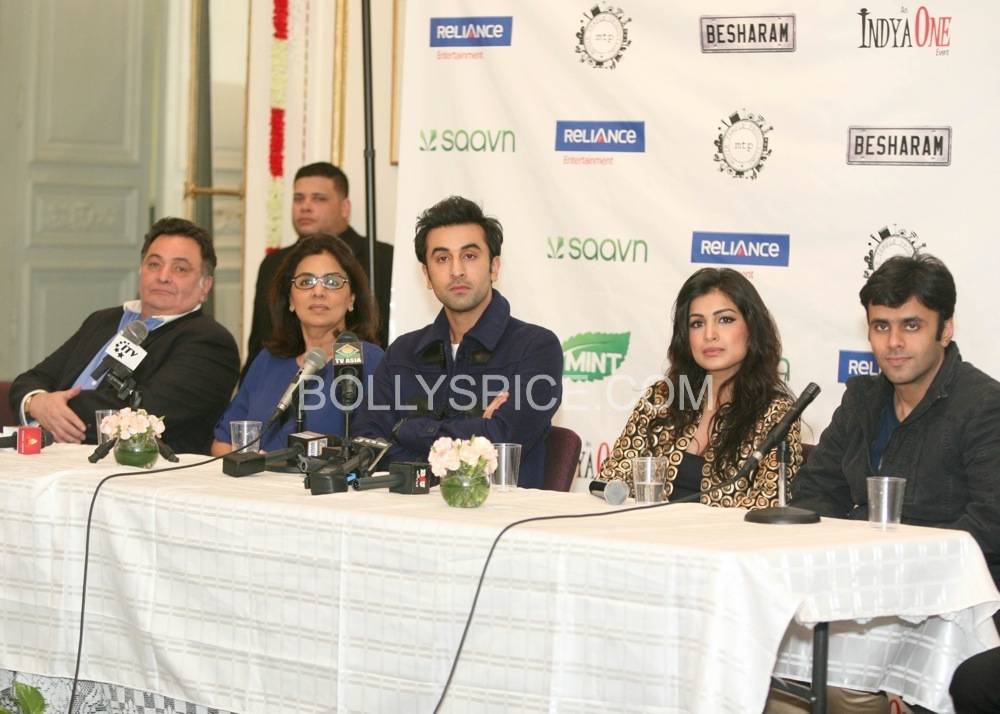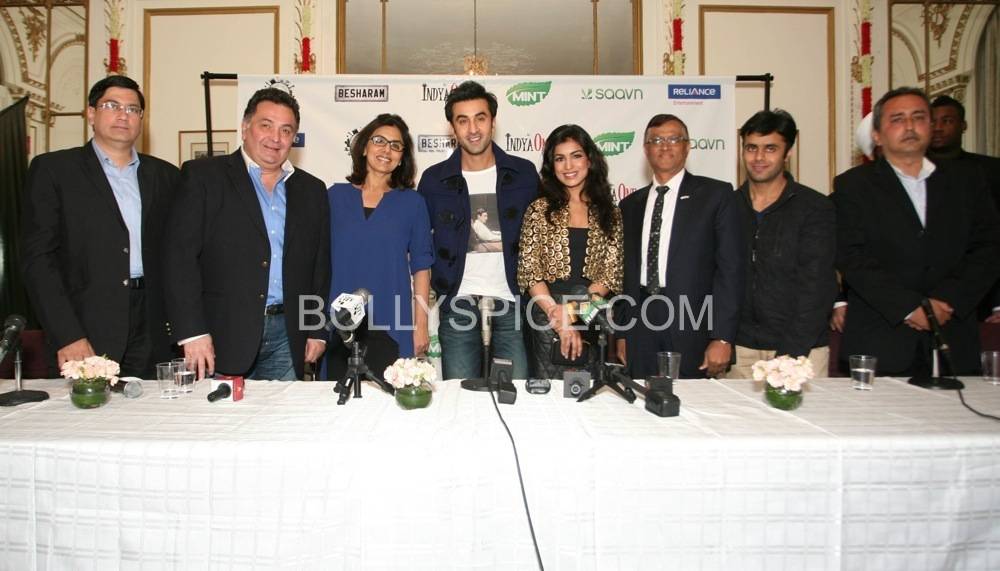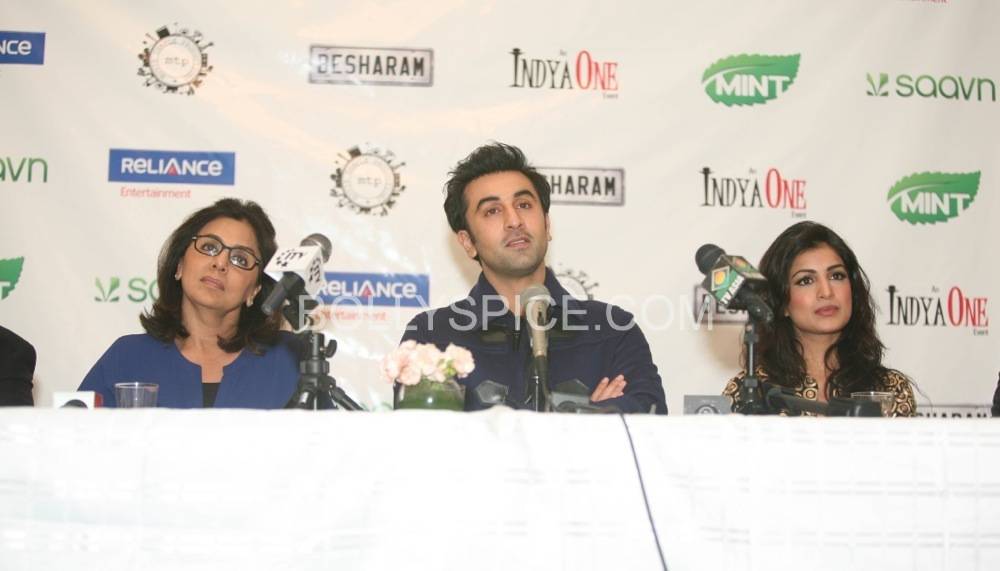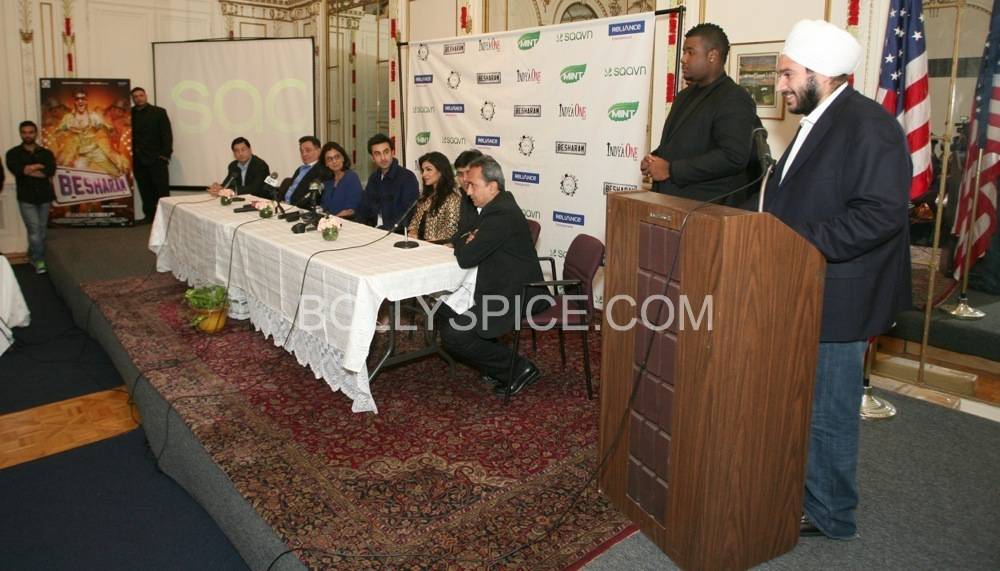 Be sure to check out our Youtube channel for a video to see what's its like to be part of the press conference! https://www.youtube.com/user/bollyspicemag