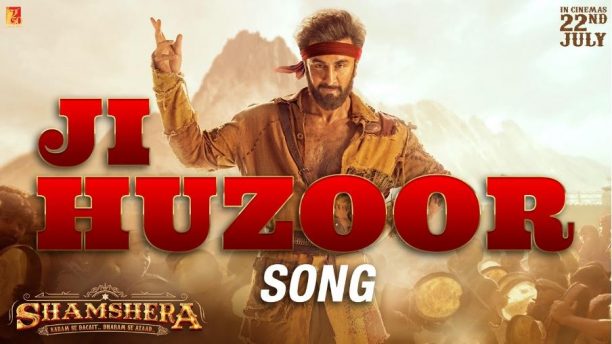 In The upcoming action drama, Shamshera, Ranbir Kapoor plays a larger-than-life quintessential Hindi film hero times two, Shamshera and his son Balli. Set in the 1800s, the story of Shamshera takes place in the brutal prison in the fictional city of Kaza.
Now being the archetypal Hindi film hero, song sequences must be performed in the film, and Ranbir has delivered with 'Ji Huzoor'. An exuberant dance-filled track, it is sung by Aditya Narayan with additional vocals by Shadab Farid, and has been composed by the great Mithoon has released. Fans are loving it, with over 6 million views in just 24 hours on YouTube alone.
The song presents tribal warlord Shamshera's son Balli, played by Ranbir, entertaining the kids of the brutal Kaza fort prison before they all return to their lives of oppression and torture in the hands of the evil and ruthless Shuddh Singh, played by Sanjay Dutt.
While revealing details of 'Ji Huzoor', Ranbir says, "Kaza is essentially a brutal prison for the tribe that has been captured and are being tortured continuously. Balli is someone who, despite all the oppression and humiliation that he has faced, is full of life, he is mischievous, and the kids of Kaza look up to him, and he loves them dearly. The kids and he are a gang and they bring some life in the dark Kaza where people are simply suffering in the hands of this evil person, Shuddh Singh, played by the one and only Sanjay Dutt!"
He adds, "When 'Ji Huzoor' comes in the film, it is that one rare break-free moment that Kaza, Balli, and the kids of this prison experience. It's a very sweet song which shows Balli's relationship with the kids. In the song you will see Balli doing random, funny things so that he can entertain the kids and lighten them up before they all go back to the harsh realities of their lives."
Director Karan Malhotra further explains the importance of the song in Shamshera's narrative, saying, "'Ji Huzoor' is a fun-filled song representing the bond between Balli and his little friends. Despite surviving behind the oppressive walls of the fort of Kaza, Balli and his band of little bandits share a relationship of warm mischief. 'Ji Huzoor' is Balli's unique way of showing the kids that they are free to express themselves in their rare moments of happiness."
He adds, "The song is like going on a joyride with your kids, and that is exactly what Balli does with his little friends in the film. 'Ji Huzoor' is designed for the audiences to experience a unique visual journey through the fort of Kaza. I hope they enjoy watching it as much as we enjoyed shooting this beautiful song."
Directed by Karan Malhotra, this action extravaganza, Shamshera, also starring Vaani Kapoor, has been produced by Aditya Chopra and is set to release in Hindi, Tamil and Telugu on July 22, 2022