11-11-11, that is when Ranbir Kapoor's Rockstar will hit cinemas everywhere. Ranbir says it has been an incredible journey from the first shot to promotions to getting ready to release the film to the world. Along the way he has shared some of his experiences on Facebook and we thought we would give you a few that we really enjoyed reading.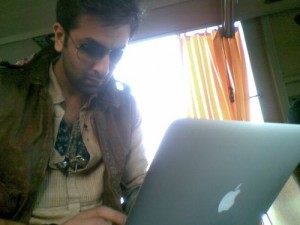 "Hellooo team Rockstar.. This is JJ AKA Jordan AKA RK.. hope guys are well and rockin… firstly I wanna thank you guys frm the bottom of heart for all the love and support you guys have shown towards our movie…this film is as much yours as its ours… we're en route frm Amritsar to Jalandar and tom we get to Chandigarh via Ludhiana…so hope to see all you lovely people around… stick around… next few days is gonna be palang todhh…and will try and post a msg everyday… till then SADDDDAAAA HAAQQQQQ… lemme hear u guys 🙂 – RK"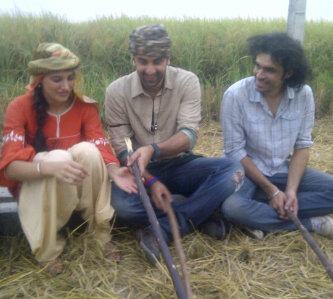 "In Punjab, I want to share an experience I had on this trip… after meeting the lovely people of Lovely University, Imtiaz, Nargis and me took off to the fields on Jalandar all by ourselves… no security, no cameras, no assistants, nobody… Nargis being Nargis was running around chasing grass hoppers…Imtiaz sir disappeared some place to have his moment… i sat there, on the muddy grass, acres of barren land all around, 8 cows chewing on their supper, 630 evening light falling on the fields, breezy weather, isolated from the madness, no thoughts… and felt really nice… like really nice.. felt alive… felt the universe and how many miles i have to go before I sleep…. you guys should try it sometime.… take care guys…. thank you Punjab for the warm welcome and the love and the support… -RK"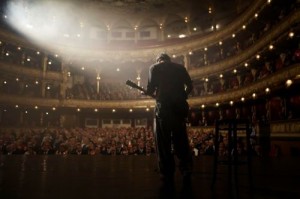 "Jim Morrison….. stage par jaakar middle phinger dikhata hai. Aise….(demonstrates). Janta badi khush. Taaliyaan. Seetiyaan. Ke kamaal kar diya bhai ne….Aur main yahaan bus stop pe gaana ga raha hoon,taaki janta ka timepass ho jaaye….Aur yeh yaar jhaapad maar rahe hai mujhe…My fav dialogue from the movie –
Yeh sab jhooth hai.Drama chal raha hai meri chaaro taraf. Mujhe bewakoof banaya jaa raha hain. Tum sab nakli ho. Yeh jo ho raha hai,asal mein nahi ho raha….SAADDA HAQ AITHEY RAKH!!! – RK"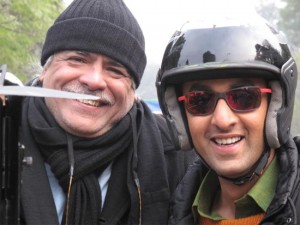 "Hello Rockstars. Today I want you guys to be introduced to my favorite person in the film industry.His name is Mr Anil Mehta. he's the cinematographer of our film. I had worked with him on Wake Up Sid too. He's truly complete man who I respect and adore and haven't met anybody with such positive and warm vibes. He's the reason I still have faith in film people in this fickle industry. He made me promise that i have to get married with in two years with a non filmy girl. We have had such wild wrap party nights together where me and him use to end up hugging each other for hours. I remember one wrap up party in Mcleod ganj, where Anil sir went up to Imtiaz and hugged him. And in 5 mins the entire crew of Rockstar was part of one big hug which left Imtiaz weeping like a child. It was one of the most beautiful moments that I have been part of. Truly. Hope you all guys doing well.
Ps. I spent an hour with Mr Rahman yesterday at his Mumbai residence. Discussed Mumbai concert and spoke about spirituality and faith. What a superior being he is.
Last night saw the first Mono copy of Rockstar. Fingers crossed guys. I was anxious,excited and nervous. Its the feeling i always wanna feel being part of movies. I love you all.Speak to you today..
JJ – abhi ghar jaayegi ya aur gandh machani hai???
Heer – Gandh toh bohot machani hai..lekin waqt kaha hai mere dost..(exaggerates) kahan hai waqt….RK"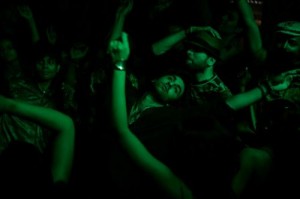 "Hello TR..Happy Diwaali and lots of joy and happiness to you all. Hope all guys have palang todh year and whatever your heart truly desires,all come true. Phir Se udh chala. First day of shoot. JJ splashes alcohol all over his face and clothes (he doesn't like the taste of alcohol) and pretends to be drunk to show his friends. He gets on the dance floor and surrenders himself to the colorful illusions. I keep flying in the colorful illusion. I keep flying.. He feels vacant. But doesn't know the reason. How does one show this in cinema. Imtiaz sir+ Rahman Sir+ Mohit + Irshaad bhai give me wings to explore this moment. My first day of shoot on Rockstar. Unforgettable. Wish i could fly like that everyday. This place is a Dream. Only a Sleeper consider is real. Lots of Love, Kisses and hugs. 15 days left for the Nadaan parindey to come home..:-) RK"
Rockstar's story:
Janardhan Jakhar lives in his own world, encompassed with music and dreams of mesmerizing the world with his voice. This Delhi boy imbibes a priceless piece of advice from his mentor friend – great music is born from great pain. Janardhan now sets out to find the pain that will make his life and music go beyond the realm of the ordinary.
With every passing day, his relentless pursuit of love and pain translates into words and music, transcending the heart and the soul.
Join Janardhan as he traverses through the path unknown.
Stay tuned because we will be bringing you many more Rockstar moments plus a special interview with the man himself Ranbir Kapoor! Rockstar was directed by Imtiaz Ali and co-stars Nargis Fakhri.