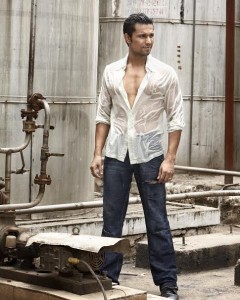 Randeep Hooda has had a happening 2014, but the actor seems to have some specific plans for this year, to begin with he wants to break from his 'serious actor' setereotype!
"Not so much as break, the fact of the matter is that I had an idea of the kind of films I would have liked to be a part of, the universe has been kind and I have managed to do the kind of films I like, but I would like to extend my repertoire. Experiment a little more than what I already have," confirmed Hooda whose portrayal of Mahabir Bhati in Highway had girls wishing they could be kidnapped.
"We got a great response with that film though I was playing a brute, maybe it is time to move towards some frothy love stories to take that thought forward," he quipped cheekily.
While it is good news for all his female fans, one cannot help but wonder if Randeep is upto the whole song-and-dance routine. The mention of song-and-dance routine had the actor grinning, "I just want to dive right in, I want my directors to challenge me, and I want to overcome those challenges. The thing is, I don't want things easy. The minute I feel things are coming too effortlessly, I start feeling stuck and I want to jump that boundary. I want to be challenged, I want to mould myself, bend myself and convert myself to my director's vision."
So do the intense roles take a back-seat? "They will be there, but there will be more to me that those brooding characters!"
With that Randeep certainly has given us something to look forward to this new year!