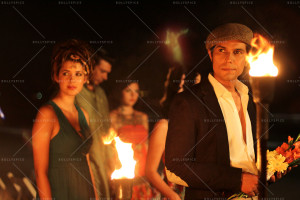 Maverick actor Randeep Hooda who is all set to showcase his acting chops in one of the most anticipated biopics releasing this year, MAIN AUR CHARLES, reportedly went miles to perfect his look and voice.
According to facts, the character that Randeep is playing spent most of his time in France, imprisoned as well there due to which he spoke with a heavy French accent and became well versed in French, using that language as his first language. To authentically portray the serial killer, Randeep Hooda trained for six months under the guidance of an expert Alliance Francaise teacher in accent and diction lessons. He made it a point to speak in the French accent even during non shoot hours and practiced it day and night to sound like he was native French!
Says a source from the sets, "Randeep went about learning French like a perfectionist, and by the end he was so well versed in the language that one of the managers where we shot the scenes, actually thought he was a French national! In fact even while dubbing, the French expert was constantly by Randeep's side while he dubbed his own dialogues."
Well, we can't wait to see this unusual biopic as it releases on 30th October!
Wave Cinemas Ponty Chadha presents, A Cynozure Networkz Production, Produced by Raju Chadha, Amit Kapoor and Vikram Khakhar, Written and Directed by Prawaal Raman, Main aur Charles is all set to release on 30th October 2015!!