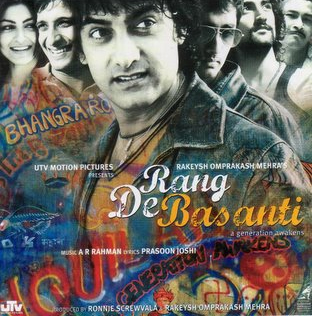 Filmmaker Rakeysh Omprakash Mehra has launched a book where he has written about his journey during the making of one of his most critically and commercially successful films; Rang De Basanti (2006). The 51 year old director launched the book Rang De Basanti: The Shooting Script, on Indian Independence Day, and has stated that the overwhelming impact which the film had on the masses influenced him to write about it.
Speaking about the book during its launch in New Delhi, Mehra said the following to the Indian media. "Rang De Basanti is not just a film, it has become a movement. It deserved to be a book in my opinion. It has stirred debates and its impact can be seen even today. The film belongs to the nation and I feel the youth should know how we started with it.
"The book features how I started with nothing and got so far," added Mehra. "Many youngsters come to me and ask, 'We want to make a film but have no buyers and don't know from where to start.' So, this publication has my journey from the time I started with an idea about Rang De Basanti and how it went to become what it is today."
Rang De Basanti features actors Aamir Khan, Sharman Joshi, Soha Ali Khan and R. Madhavan in the leading roles. The film scooped up all the major awards following its release and has now become a cult classic. The book also contains interviews with Aamir Khan, as well as Oscar-winning composer A.R. Rahman, who produced the music for the film.
Rang De Basanti: The Shooting Script is available now from all good retailers!