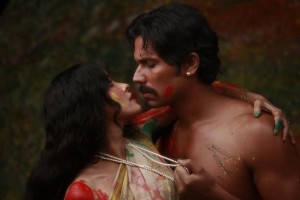 Randeep Hooda's  Rang Rasiya, a period drama based on the life Raja Ravi Varma, will be released on October 23rd, 2014 by Jayantilal Gada of PEN India. Rang Rasiya is directed by Ketan Mehta.
On Monday Jayantilal Gada met director Ketan Mehta, according to sources close to the film, "It was Ketan's birthday and Gada's thumbsup to his film was the perfect birthday gift. Ketan has waited six years for the movie to see the light of day."
On asking about the clash with Shah Rukh Khan's Happy New Year, Gada said, "Shah Rukh is a big star and I'm not competing with him. But there is an angle in the film which justifies a Diwali release."
When Jayantilal Gada was asked if he was going to use the intimate scenes between the Randeep and Nandana to bring in the crowds he added, "No, that's not the plan. Much has been written about the film and people are already aware of what Rang Rasiya is all about. We'll bring in the crowds through our content and aesthetics alone."
Nandana Sen, co-actor of Rang Rasiya who settled down in New York will return to India to promote her film.