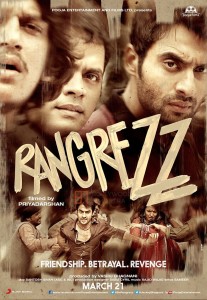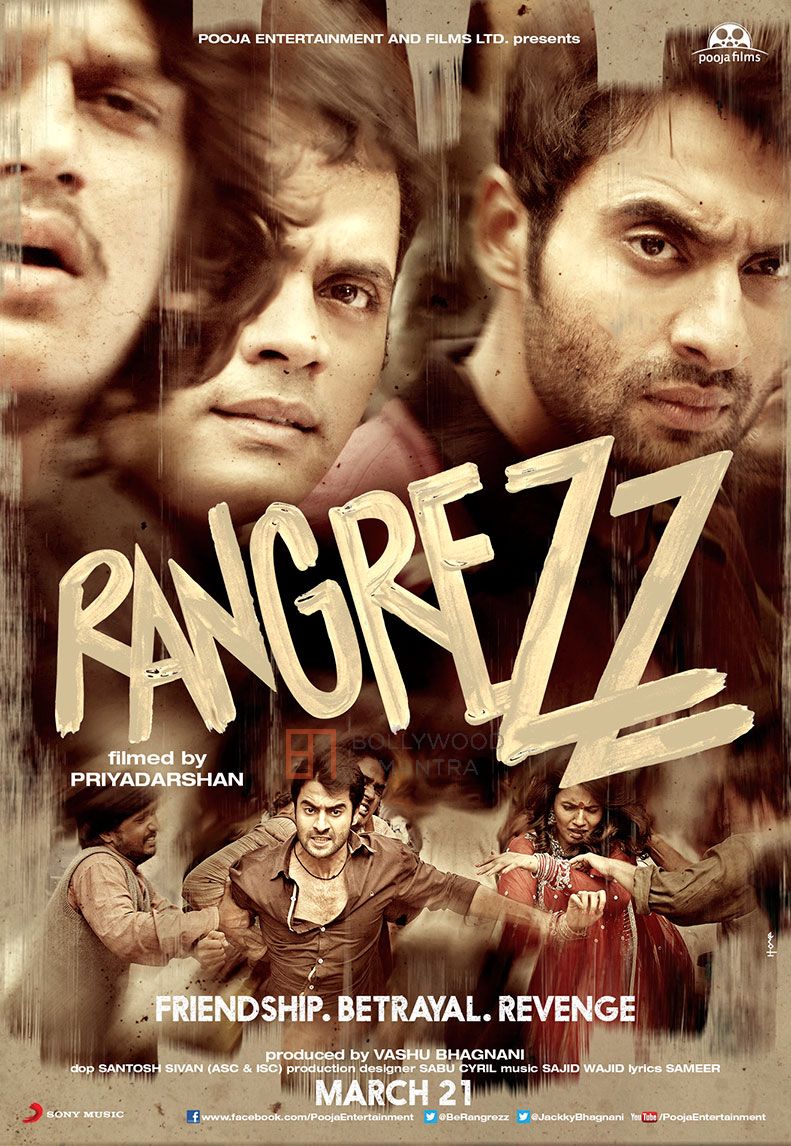 As the director of the 2008 National Award winning Tamil film, Kanchivaram and many other classics, Priyadarshan needs no introduction nor to be questioned if he can sparkle up the screen. But not everyone remembers this and time is what it is. Although not nearly as breathtaking, Rangrezz would probably fall into the same category of films he directed as Aakrosh and Tezz, showing the serious/realistic cinema side of him. A remake from Tamil, it stars Jackky Bhagnani, Priya Anand, Vijay Verma and Amitosh Nagpal in lead roles. The original film, Naadodigal, has been remade into 4 other languages since its release in 2009. But the key here is whether Rangrezz will see the same success.
Now, we have seen our fair share of movies in Hindi cinema that depict love birds and the selfless friends that help them succeed in their love story. Yet, have we ever seen what happens to these friends AFTER the escapade they venture on, all in the name of friendship and their belief in that four letter word- LOVE. Rangrezz is about 3 men that step forward for a friend and take on the battle against the odds to get him his girl. And, after risking it all, shattering their own dreams and even losing part of themselves, what happens when they find out it's all in vain.
This isn't sob story. Nor is it an artsy film. It's a commercial film. Street slang, comedy sequences and even a desi version of PSY's Gangnam style is there but the major difference is, this is the kind of story that not only sheds light to how devoted a friend can be but also, how badly that four letter word is abused and how not every friend is worthy of a sacrifice nor every friend willing to let that fact slide.
The refreshing aspect of the film is that life is bound to introduce you to one or more of the characters in Rangrezz. A young man who dreams to go abroad. A father who is more like a best friend to his son. A girl who gives ideas to her sweetheart so she can marry him with her father's approval. All of them. Seen them, met them or even are them. But the world isn't perfect and there is a flip side of human nature, even if we don't own up to it. There are those that will use and abuse that four letter word like newspaper. Purists will say love is divine and the same for all but life will show the emotion is tailored to each of us. Priyadarshan sheds light to this fact and the best bit is that it's not an attack on love but the lovers themselves. Add in the blind faith friends go by and the outcome of inadequate understanding of relationships in a fast-food, faster-life generation run society that can and has changed lives and BOOM, Rangrezz.
With a topic that is relatable yet rips the mask off to show reality, it is imperative to have a cast that breathes life to the characters. Jackky Bhagnani plays Rishi Despande and shows much more promise (even if he still needs to work on his emotions) than his last film Ajab Ghazabb Love. Priya Anand was last seen in English Vinglish and if anyone missed her then, you will surely not miss in the role of Megha Joshi. She is cheeky cute and full of beans in a 3rd person talking role that you will learn to love. But along with Jackky, it's his two friends that stand out the most. Amitosh Nagpal and Vijay Verma as Winu and Pakkya respectively, couldn't be more worlds apart in their characterisation. Yet, they work amazingly well together, with Vijay stealing a little bit more limelight for sheer brilliance. Rajpal Yadav is almost a regular on Priyadarshan's films and gets a few good lines but disappears after a while.
National award winning director-cinematographer Santhosh Sivan joins hands with Priyadarshan after almost 15 years and for those that remember their last venture, Kala Pani (dubbed as Saza-E-Kala Pani), you will remember how delightful their work together was. Rangrezz doesn't skip a beat to their tune and its gritty dynamics make the film. With the base of the original story by director Samuthirakani intact, Mushtaq Sheikh tweaks the screenplay just enough to keep the authenticity and adaptation on par but while the adjustment is admirable, the film does flake in parts due to predictability and length. The realism in the first part of the film doesn't continue consistently in the second, adding the woes. The editing by T.S.Suresh could have saved the film in those moments, but sadly does not, making it hard to keep the interest that the film secured in the first part.
Unfortunately, there are more woe points with the OST consisting of 2 composers. First we have Sajid-Wajid, who have clearly missed the bus on this occasion and Second, Sundar C. Babu, the original movie's composer, making his debut in Hindi. The only song that stays with you is Shambo Shiva Shambo by Sundar which is also from the original film. Lyrically, it's changed but the song has travelled with the story and has been used in every remake. So while OST has a 2nd version by Sajid-Wajid with Sukhwinder Singh on the mike, the impact Shankar Mahadevan has on the song is obvious and consistent as he sang for every other version of this song as well.
Dont get me wrong, Rangrezz is definitely a film to watch. Even if the diluted message may not hit as hard home as the makers wanted it too. But take along your friends for good measure, and to make up for the rest.