Rani Mukeji's Hichki is a huge success, not only receiving rave reviews (we gave it 4 stars calling it her career best), plus getting great box office numbers but the coolest thing is that it is also really touching audiences who absolutely love the film and her performance.
Recently, Rani Mukerji and the team of Hichki celebrated the film's astounding success at a special party hosted for the media at Yash Raj studios. Director Sidharth Malhotra and producer Maneesh Sharma opened the celebration with a heartfelt conversation around the journey of the film, and Rani remained the star of the moment with her warm effervescence.
In the spirit of celebrations and victory for a good, entertaining film, a cake was cut and everyone cheered for the return of Rani with a brilliant story that's won over audiences, hiccups intact.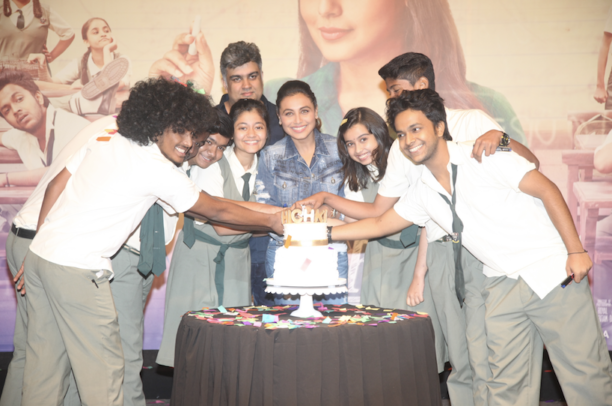 The celebration became more special because Rani went the extra mile by saluting the support of the entire team that has worked behind the scenes to make, present, and promote Hichki. During media interactions, Rani reiterated that the biggest victory for the film was the fact that teachers and students were flocking to theatres to watching the film. Present here, were also Rani's onscreen students, Class 9F that has won praise for it's fresh and convincing acting.
Opening the day's proceedings, director Sidharth Malhotra, who has adapted the film from the book, Front of the Class by Brad Cohen, said, "It took me six years to find someone who wouldn't just talk the talk, but also walked the walk with me," acknowledging the contribution that producer Maneesh Sharma has made to the project.
Sharma gratefully doffed his hat to the audience that has made the film a runaway hit, when he said, "I just want to thank every audience who has turned up for this content, who has turned up for the story, for the character, for the thought; and who had turned up for the relevant issue that the film addresses. It's a great moment (for the team)."
On stage, Rani saved her biggest thanks for her fans here. "Most importantly, I would like to thank my audience and my fans, all the Ranians across the world. It's a special film that I kept saying pre-release, and it's special because it not only entertains but it does more than that. It means a lot to me especially because I am coming back after having my baby, and it feels special to me that you have accepted me with open arms…. Thank you so much for all the love!".
Rani also posted a special message on Insta for her fans!
Watch these cool videos with praise for the film and especially Rani from fans the world over:


Hickhi is in theaters now!