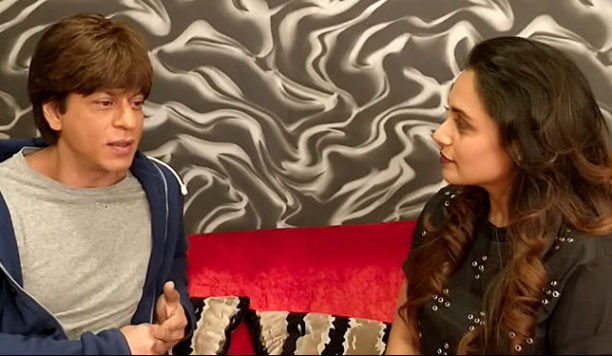 We have a very cool video just for you that features Rani Mukerji and Shah Rukh Khan. As you know, Rani is starring in the upcoming fom Hichki where she plays the character of Naina Mathur, a teacher dealing with Tourette Syndrome that forces an individual to make involuntary repetitive movements or sounds. The film tells the story of Rani's character tackling her involuntary nervous disorder to first become a teacher and then tackle societal hichkis by nurturing a motley crew of less privileged and rebellious and irreverent kids. Rani's journey is all about overcoming weaknesses and stigmas and converting them into victories.
In this special video, Rani talks to Shah Rukh about the major hichki in life and his answer is so moving. The actor revealed, "My greatest 'Hichki moment' is the death of my parents. I was 15 when my father passed away and 26 when my mother passed away. It was very sad for us. The empty house without my parents used to come to bite us (my sister and me). The loneliness, pain and sadness of the loss of both my parents, could have been overwhelming enough to take over my life wholly. I decided to overcome this Hichki moment by letting acting fill up my entire life. I got a fortunate break in films. For me, acting is not work but a place to vent out my feelings."
See more here

Directed by Siddharth P Malhotra and produced by Maneesh Sharma, the movie is set to touch the hearts of audiences when it releases on March 23rd.