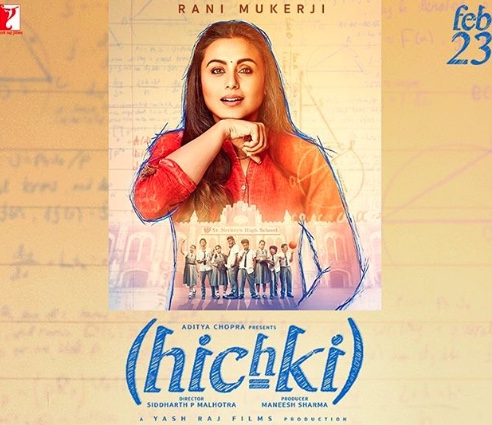 Yash Raj Films has announced that they have decided to postpone the release of Hichki, starring Rani Mukerji, to 23 March, 2018. Insiders reveal that private screenings of the movie have evoked outstandingly positive reactions and the internal Yash Raj Films team has convinced Aditya Chopra that the family movie that touches hearts should release post exams to get a wider audience.
"The multiple screenings of Hichki saw outstanding reactions. The audience in attendance have called it one of the best content driven & heartwarming movies to ever come out of YRF. So naturally, the reaction of the team is that does Hichki currently have the best release date to get an extended run in cinemas across India," says producer Maneesh Sharma.
Maneesh adds, "Hichki is an out and out family movie that will entertain audiences across all age groups. The YRF team decided that 23 March, 2018 is the best release date for Hichki especially given the post exam scenario for students and families – the most relevant TG for this film."
Manan Mehta, VP – Marketing and Merchandising, YRF says, "With exams out of the way, 23rd March gives us the opportunity to reach out to and speak to the youth, especially school students, and their families as this film is extremely relevant to them. For a special and brilliant family movie like Hichki, we have a strong marketing plan in place to trigger discoverability of the movie that we hope in turn would generate word-of-mouth."
Rohan Malhotra, VP – Distribution, YRF says, "Hichki is an incredible movie which is full of heart & it has a strong message at its core. The movie will entertain audiences, ask the right questions and challenges the right themes, which are prevalent in our society. We believe Hichki has the potential to stay in the theatres for an extended period of time and keeping that in mind, March 23rd is the best release date for the movie."
Rani plays the character of Naina Mathur who has a nervous system disorder, Tourette syndrome that forces an individual to make involuntary repetitive movements or sounds. Hichki focusses on turning disadvantages into opportunities and staring down at challenges that life throws at one and ultimately winning over them. It is also a subtle reminder about discrimination that exists in our society and has become a part of our daily lives. It highlights this through the story of Naina, who faces discrimination from our society that firmly believes she cannot be a teacher because of her disorder.
Directed by Siddharth P Malhotra and produced by Maneesh Sharma, the movie is set to touch the hearts of audiences when it releases on 23rd March 2018.
ICYMI or need to see again check out the fabulous trailer