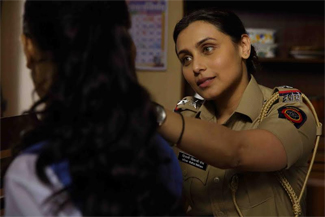 Actress Rani Mukerjee has established a strong connection with the police force following her work in the upcoming film Mardaani. The actress, who plays an Indian Crime Branch officer in the film, has made a stand for the real-life female police officers.
On visiting several Crime Branch offices, she expressed her discontent at the existing situation of the female officers. To prepare for her role as a Crime Branch officer, Rani visited some female officers and noticed they were not provided with basic facilities such as separate toilets. Appalled by the situation, she decided to bring the matter to the attention of the authorities and appeal to the police commissioners of various jurisdictions to arrange for basic facilities for the female cops.
Talking about her role, India's Anti-Terrorism Squad (ATS) chief, Himanshu Roy, said: "Rani approached us when she was preparing for her role. She wanted to play it realistically and we have just helped her do that. She wanted to know in detail about the challenges faced by cops and the lifestyle we lead. So we put her in touch with two lady officers from the Crime Branch. She then spent some time with them to get a better idea about their lives." Roy adds that the actress met the female police officer whose life inspired Rani's character in the film. "I cannot reveal her name, but yes, she was an officer at the Crime Branch," he says.