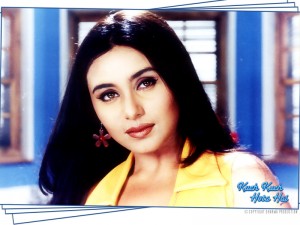 Rani Mukerji played the super hot Tina's role in Kuch Kuch Hota Hai, and to create the perfect look a lot of effort was put behind for designing her clothes.
The clothes were designed by ace designer, Manish Malhotra, who had designed the short dress for Tina in the song Koi Mil Gaya, which was apparently made to her knee length. When sent to Karan Johar, he was not satisfied with the length of the dress and wanted it to be altered as he had planned a completely hot look for Tina throughout the movie.
After 2 to 3 disapprovals, the final and approved length was delivered to Rani Mukerji. She being a complete professional gave a master piece performance in the song with the dress which was extremely short as you can see in the video of the song!!
Both Karan and Manish were in a complete shock when they saw Rani Mukerji perform with comfort, in spite of the short dress which would have put most of the actresses in an uncomfortable position!