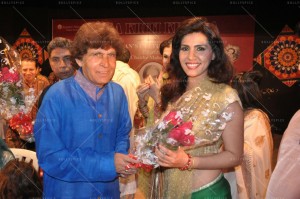 Kathak exponent and actress Ranjana Bhattacharya who recently performed at the Bhavans Mumbai Kathak festival and the Taj Mahotsav was honored with the Maharashtra Gaurav Puraskar award at a Shiv Jayanti function by a prominent social organisation – the Global Citizens Action Forum in Mumbai today. Ranjana Bhattacharya has been studying Kathak for the last 10 years under Kathak gurus Jayantimala and Sitara Devi. Jayantimala is the daughter of the legendary Padma Shree awardee Sitara Devi. Speaking to content agency Newz66.com, Ranjana Bhattacharya said, "I am honored to be presented with the Maharashtra Gaurav Puraskar award for my contribution to dance, art and culture. It's a long way and the woods and lovely dark and deep, but I have promises to keep and miles to go before I sleep," she said quoting Robert Frost.
Ranjana Bhattacharya will also perform at the Maharashtra Cultural Festival to be held in Mumbai during April this year.
Ranjana has displayed her Kathak skills at the Taj Mahotsav and has given performances at the Lucknow Kathak Kendra, Isckon Mumbai, Ujjain Festival last year where she performed with her guru Jayantimala.
Ranjana has been studying Kathak under the guidance of Jayantimala for the last 7 to 8 years and has given hundreds of performances in India and abroad. After studying Kathak for about two years she got a bengali film Sonar Sansar opposite superstar Prosenjit which launched her in the world of films and Bollywood eventually. She also featured in films like Zila Ghaziabad, Right Ya Wrong, Chashme Baddoor and has done ad films like Vithoba Dantmanjan, Nmart, Zalim lotion, Kabjamrut, etc. She also did a Bhojpuri film Ee Mati Mein Sab Kuch Kathe produced by her Guruji in which she played the lead female role.
Ranjana has been doing theater for the last 5 years and has acted in plays like Uncle Samjha Karo, See No Evil Hear No Evil and Get rid of my Wife.
Ranjana who was introduced to the classical dance legend best described by Rabindranath Tagore as Nritya Samragini, meaning the empress of dance – Sitara Devi and her daughter Jayantimala by a well-known film photographer who is a family friend says, "Of course we all love her, she is so modern in her thoughts and tell us all the time to create and have an identity of our own first and then try to achieve something."
Speaking about her training to Newz66.com, Ranjana says, "My guru has a house where we practice and live the entire day. That's like my second home where I eat, live, dance. Sometimes bade guruji chit-chats and teaches us but we all are very scared of Sitaraji as she is a strict and very disciplined teacher."
Ranjana's hobbies include traveling and exploring different cultures and cuisines, cooking watching movies and sometimes reading inspirational books.
This slideshow requires JavaScript.