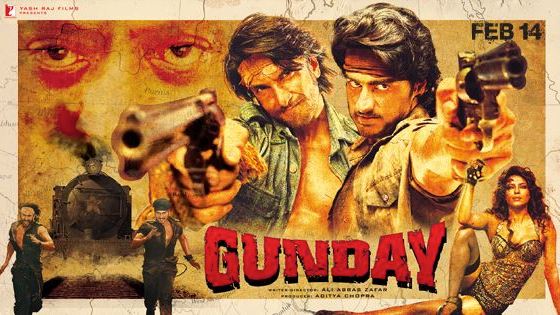 Here's something we bet you didn't know about the upcoming film Gunday, which stars Ranveer Singh and Arjun Kapoor. The film is a story about two friends – Bala and Bikram, with Arjun taking the role of Bala and Ranveer becoming Bikram. However, originally Ranveer and Arjun were hoping to play different roles in the film.
First the story of the film:

Based in Calcutta during its most unsettled times in the '70's, the film deals with the inseparable life of Bikram and Bala.
The story of 2 boys, boys who became refugees.
Refugees who became gun couriers.
Gun Couriers who became coal bandits, Coal bandits who became Calcutta's
Most Loved, Most Celebrated, Most Reckless, Most Fearless, Most Powerful!
A story of two happy-go-lucky renegades who came to be known as…
Gunday!
Now, here is the rest of the casting story: The director, Ali Abbas Zafar gave the duo Ranveer and Arjun a joint narration for the film without divulging the characters they would be essaying.
After hearing the characters and the plot of the film Arjun liked the character of Bikram where as Ranveer was thrilled to hear the story from Bala's point of view.
Ranveer connected with Bala's character who is more flamboyant, boisterous and outspoken. Much like Ranveer himself in real life. Where as Bikram's character is slightly held back. He is in a sense like the angry young man.
When Ali Abbas revealed that he would like them to play the respective roles…. Ranveer tried to reason with him that Bala is more him and the audiences have seen and loved him like that.
However Ali was sure he saw Bikram in Ranveer and Bala in Arjun. He convinced the duo to give it a shot and after a little conversation the two gave in to their director's vision.
Ali Abbas Zafar says, "It was obvious that both Ranveer and Arjun would want choose to do roles that were closest to their own personalities. We had to convince them to do the opposite role."
Seems the director is always right because the two have hit it out of the park! Everyone during shooting or who have seen portions of the film during editing cannot imagine the duo playing any other character in the film.
Not only that, the trailer of the film has got a fantastic response. Both the boys have been appreciated for their bold and brazen acting.
We can't wait to see Bikram and Bala in all their glory when the film hits February 14th!
Here's the trailer to see for yourself!