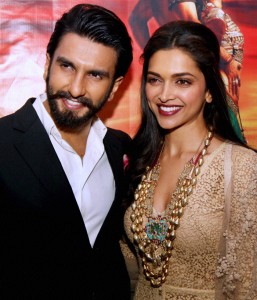 For Ranveer Singh and Deepika Padukone, it would be a tryst with some 'desi' magic when they report on the sets of Sanjay Leela Bhansali for Bajirao Mastani. Though currently both the actors are out of the country while shooting for their films set in a foreign land, it is crystal clear that a different world would await them in Bajirao Mastani which is deep rooted into Indian culture.
"Ranveer is out shooting with Anushka Sharma for Dil Dhadakne Do while Deepika is with Ranbir Kapoor for Tamasha. Now this is uncanny enough for reasons more than one, what with both hot-n-happening stars being out with their respective exes. Anyways, this is the business of making films and it happens," quips an insider.
What matters though is the fact that soon they would be reunited by Sanjay Leela Bhansali all over again for Bajirao Mastani, a dream that he has been nurturing for a decade now. Though there was a point in time when it had seemed that this dream would be prolonged for long, what with Karan Johar planning to cast the couple for his 'Shhuddhi' instead, all settled down eventually with Bhansali bagging his stars.
"With dates procured from both Ranveer and Deepika, Bhansali is now putting together pre-production for Bajirao Mastani, which is expected to be an opulent musical with stage set for yet another performance based celebratory event," a source attached to the film adds, "While Ranveer would indulge in Kill Dil first on his return, Deepika would be stepping out for Piku. However, other than these films, none of the two actors have signed anything else and all their concentration would be on Bajirao Mastani'."
Even though this produced of Eros and Sanjay Leela Bhansali is still far away (the film is slated for 25th December 2015 release), one can be rest assured that a lot would be heard and said about the film in next 18 months and you can be sure we will bring you all the news!