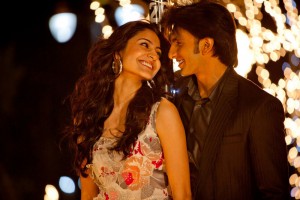 You would have thought that after enough time the media would be tired of reporting on the possible Ranveer Singh and Anushka Sharma relationship but it seems the reporters just cant get enough of the story. Given the fire surrounding the story you would also think that both parties would try hard to avoid the topic but Ranveer couldn't help himself this week and instead stirred the rumor pot for another time.
During a recent interview with a leading magazine the Band Baaja Baaraat star said "Anushka is someone I'm really close to. I have a close circle of friends in the industry and Anushka is one of them."
He commented further by saying, "She has been by my side right from the beginning, through all my ups and downs. She knows me inside out. She's someone I can really trust. She is also a busy person, in fact busier than me. So whenever we get the time, we hang out, watch movies and eat out. I see to it that we stay in touch. She is a close friend and will always be."
Sticking to Bollywoods favourite cliche 'we are just good friends', Ranveer also had very casual comments for his other link up Sonakshi Sinha."My interactions with Sonakshi are professional. We have never met socially. We don't really chat much on the set. We interact when we shoot together. That's it."
While newspapers are busy speculating about Ranveer's possible relationships we are simply looking forward to seeing Ranveer back filming Lootera after his injury.