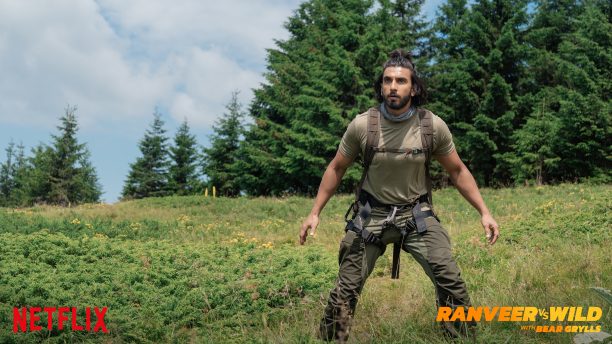 Get ready for Ranveer Singh to go Wild! The actor is known for the versatility he has showcased in his career so far. We have seen him excel at being an actor, fashion icon, dancer, rapper and so much more. Ranveer always is pushing his boundaries constantly and he is taking on a new avatar and going to 11! He is all set to hit bahut bahut hard and go on a WILD journey, all in the pursuit of love for his leading lady.
As seen in the teaser Netflix India, the maverick artist and self-confessed city-slicker is in a whole new role as he teams up with the King of the Wild – Bear Grylls for India's first interactive adventure reality special produced by Banijay Asia in association with The Natural Studios launching on Netflix on 8th July. Ranveer takes off on a thrilling date with nature, fending for himself, and learning new survival skills as he ventures into the depths of the wild to find a rare flower for his lady love in the harsh forests of Serbia – all while the viewers get to pick the course of his escapades. After all, Ranveer never shies away from a challenge – and in matters of the heart, no stone is left unturned.
Produced by Banijay Asia & The Natural Studios, 'Ranveer vs Wild with Bear Grylls' gives viewers a chance to join Ranveer on his journey, choose every step in the adventure and be a part of the action. Bear Grylls and Ranveer's dynamic pairing will bring forth the ultimate adventure reality to audiences globally.
Monika Shergill, VP-Content, Netflix India, said, "We are excited to take audiences on the ultimate adventure with the high octane and unstoppable Ranveer Singh and the world's best survival expert, Bear Grylls in 'Ranveer vs Wild. with Bear Grylls''. Netflix brings India's first ever interactive adventure special that will give audiences all over the world the controls to test Ranveer Singh, as he pushes his boundaries in this adrenaline-pumping experience of a lifetime."
Further commenting on the special Deepak Dhar, Founder & CEO, Banijay Asia said "Ranveer vs Wild. with Bear Grylls is a huge step in pushing the envelope of interactive reality TV and we are elated to bring this exciting special to Netflix members across the world. While the world is familiar with Ranveer's electrifying spirit and adventurous side, with this show, we'll see the best of both sides coming out as he embarks on his quest for love. We are absolutely thrilled to bring this power-packed duo of Ranveer Singh and Bear Grylls together to take the adventure of a lifetime and shoot the entertainment quotient through the roof."
Are you ready to help Ranveer on his quest for love? Ranveer VS Wild with Bear Grylls coming to you on the 8th of July, 2022 – only on Netflix!
Check out some pics from this mega adventure!