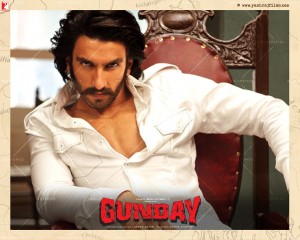 After his brilliant performance in both Lootera and Goliyon Ki Raasleela Ram-Leela, Ranveer Singh is back on the big screen in a totally different avatar for the YRF film Gunday. Taking on the role of Bikram in the Ali Abbas Zafar directed film the hot actor is sharing the screen with Arjun Kapoor and Priyanka Chopra. The dashing Ranveer Singh spoke to Bollywood editor for Cineworld Cinemas and Indian cinema expert for BBC London, Ashanti Omkar and we have some highlights from their fabulous chat!
Talking about the diversity of his recent roles, Singh said, "From Lootera to Ram Leela to Gunday, they are all completely different and it has been one of my endeavours to show versatility in what I'm doing. That has been my agenda, in this stage of my career, to actually put out the range that I believe I have in my repertoire, on display. It's about being creatively stimulated and it's important to me that the audience knows at the outset, that there is a range of things I'm capable of doing and for the film makers, producers and directors, that there should be a versatility associated with me as an actor. For me, when there is a stark difference from role to role, that is almost startling, and if you see the guy in one movie and say 'I can't believe' it's the same guy in another film, he had this transformation, it comes from choosing a wide array of characters and also directors and of course, varied genres."
Now we all know Ranveer makes fans swoon, so how does he stay in such hunkstar shape? His answer may surprise you! "(Laughs) I don't actually maintain this physique – I make it when I have to. Otherwise I stay in a sort of medium zone which is good enough, but there is a lot of work that goes into making my body screen ready. What you see on the screen takes a lot of dieting, a lot of working out and while I enjoy working out a lot, the dieting part I don't like, because I'm a big foodie. I love to eat and to deprive oneself of the good stuff – to me, good food equals a good life and it becomes a process of depravation, so I have to really trust myself through the diet. The workouts are fun. The fitness that you do gives you a high, it gives you self confidence, you feel good about yourself. After Ram Leela, I went back to loving my food, I became a bit fat and then I had to do it again for Gunday. Any actor who prepares for a screen ready body will tell you that it takes a lot of work and it's very very taxing. I got a lot of appreciation for my physique in Ram Leela and the difference between that and Gunday was that I had to look rather menacing and beastly for this role, essentially a thug. That took buffing up."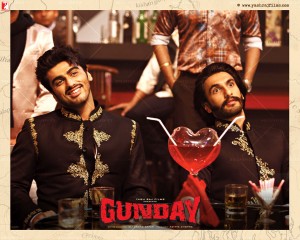 She asked, "Gunday reminds me of the cult Bollywood classic Sholay, with a bromance and being set in a similar time period… How did you and Arjun Kapoor come together as Bikram and Bala?"
He answered, "Arjun (Kapoor) is a guy I knew while growing up, he's Sonam's (Kapoor) cousin from her Dad's side and we had a lot of common friends through college and we used to rock on to the same songs. Mainstream 90s Hindi film songs – when they played them, we'd rip up the dance floor and I used to like him because of that and we'd bond over those parties. They when I was working on Ladies vs Ricky Bahl and he was working on Ishaqzaade, we'd meet at Yash Raj studios and as we get along like a house on fire, we'd have long conversations. We'd just yap yap yap and we thoroughly enjoyed each others company and we'd entertain each other. And in a group scenario, we'd entertain everybody around us, so it occurred to me that we could creatively do a movie together. We both sent the message out into the universe, and Gunday presented itself as an opportunity, sooner rather than later."
Revealing more about Gunday he added, "It's a story about brotherhood, it's a bonafide 2 hero film and a story about blood brothers. As a kid, I always wanted to be an actor and now I have the opportunity to do roles I'd always imagined, things I wanted to do as a quote on quote "hero". And in Gunday in particular, I've gotten to do those types of punchlines, those elaborate action sequences, and the song and dance routines I so craved to do. It is a traditional cinematic Hindi film – a mass entertainer, but it also has substance and credibility. It has a story to tell and it is very honest in it's emotion. It is everything one looks for in a substantial action movie."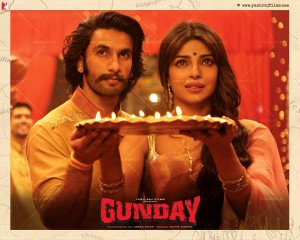 Also starring in the film is the gorgeous Priyanka Chopra and Ranveer had nothing but praise for the actress, "Priyanka brings any place to a standstill – she's stunning. I was very leery about working with her, as she's not just an amazing actor, but has won many national awards! I kept saying to myself that I better get my A-game on to be able to keep up with this chick. It was amazing how she wants to better herself. She's always have suggestions during scenes and she always treats you like a level playing field. She is a huge star, but she never makes you feel that. She never imposes her stardom upon you and she treats you as a co-actor. With the director of Gunday Ali Abbas Zafar, it's only his 2nd movie after Mere Brother Ki Dulhan but she gave him the utmost respect for being the captain of the ship. She has no starry airs and we cultivated a very comfortable working relationship. She's extremely, EXTREMELY talented and she does a lot of things with one take. You don't think it can get any better than that, as she does it with such ease and such conviction, at the same time. She truly is somebody that there is a lot to learn from, by observing. She's always hungry to enhance the material and never imposes her seniority."
Gunday is in theaters today!