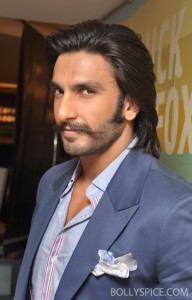 Ranveer Singh is slowly but surely recovering from his severe case of Dengue fever. Though it is a slow recovery and the actor is impatient to get back to work, he is on the mend.
We caught up with the actor to talk all things Ram-leela (more on that later), and of course first had to ask him how he was doing.
"I get a little bit better every day. I am not completely up to speed yet but I will get there in another couple of weeks time. I hope so," he said.
Apparently this was a very bad case. "It was a severe case but the doctor told me I was able to make a right quick recovery, an alarmingly quick recovery because of my fitness levels going into the illness. But yeah, man it was bad. I was in hospital for a week and there was a good 24 hour period in there where it was really scary. Never felt like that in my life. But I guess what doesn't kill you makes you stronger."
Ranveer is ready, waiting and impatient to get back to work, "It is no fun dealing with a serious health issue once a year, because last year with my back and this year it is Dengue. What pissed me off the most is that it is a loss of time, you know? I want to achieve so many things. I always feel like my time is running out and then to be wasting time on health issues is no fun. I get very very impatient when things like this happens. It is a set back in terms of time. You know, you lose all that time in the hospital and then in the recovery period. I want to accomplish a lot. Just hoping it doesn't happen again and I am able to do more and more films."
He also talked to us extensively about Ram-leela and here's a sneak peek, "Bhansali has really given me wings to fly with this role."
Stay tuned for much much more, but you have to wait until closer to the November 15th release date to get the full fabulous interview!
We wish him a speedy recovery!