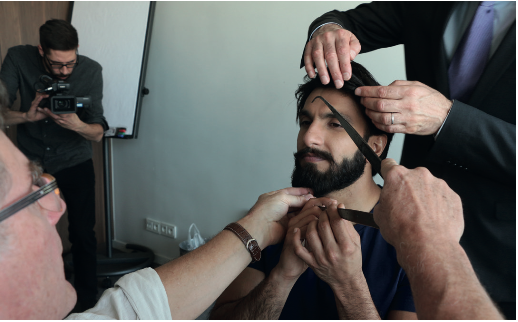 Looks like Ranveer Singh is getting a truly brilliant birthday present. The actor, who was born on July 6th, 1985, will have his wax statue revealed at the prestigious Grévin museum in Paris on his birthday.
The famous Parisian attraction, which is celebrating its 135th anniversary, allows visitors to meet more than 200 personalities in unique settings.
Speaking about the birthday launch of the statue at the Grévin, Ranveer said, "It's a truly special birthday present and one that will always bring back beautiful memories of Paris. I love all things French, and am grateful to the museum that they have given me a permanent place in wax in their home and their hearts."
During the launch of the trailer of his film Befikre, which was shot in Paris, the sculptor Eric Saint Chaffray and the Grévin's artistic teams met up with Ranveer Singh to gather the data they needed for creating his waxwork.
Nothing was left to chance to make sure that the statue was perfect. Ranveer's hair, skin, and eye colour were carefully measured and recorded and his hands were actually moulded. The only problem for the sculptor was to recapture the exact contours of the face since the actor was wearing a beard to play his role in the film!
Held at the Pullmann Tour Eiffel hotel, to the musical accompaniment of the film's superb soundtrack, the session was full of laughter. According to a source Ranveer is joyful and charming and a real pro. "I love Paris", he said, "I wouldn't mind coming back every month".
To make it even better Ranveer donated one of his own outfits to be worn by his statue. It was sent to the Grévin from Mumbai.
The wax figure will be on view in one of the Grévin's most prestigious venues, the Hall of Columns, not far from Shah Rukh Khan, Céline Dion, Leonardo Di Caprio, Angelina Jolie, among many others.
Happy Birthday Ranveer!