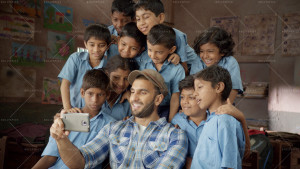 Ranveer Singh is known to be more than just a Bollywood superstar. He has often pushed boundaries and ventured into unchartered territories with utmost ease and complete conviction. As the brand ambassador for Ching's Secret, he took on the avatar of 'Ranveer Ching' in a one-of-its-kind branded music video.
Now he puts his money where his heart is. Ranveer will champion the Akshaya Patra Mid-day Meal programme in a global fund-raising drive initiated by Ching's Secret (and YRF). To kick-start the drive, Ranveer will personally sponsor mid-day meals for 10,000 children for a year.
Says Ranveer, the champion of the drive, "It gives me the most amount of joy to spread love, to spread happiness. There's nothing better than to feed a child, to educate a child. I love kids! I especially feel for underprivileged kids tremendously."
The Akshaya Patra Foundation runs the world largest (not-for-profit) Mid-day Meal programme in association with the Central and State Governments. Their mission is to ensure that hunger does not prevent children from getting an education. The Mid-day meal programme ensures that children attend school rather than work to earn enough for a meal a day. With 243 kitchens situated in 10 states of India, the Foundation serves freshly cooked, nutritious meals to over 1.4 million children every school working day.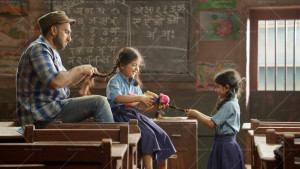 Through the 'India Ke Hunger Ki Bajao' drive, Ranveer and Ching's aim to raise funds to feed at least 1 million children in India. He has been personally involved in all stages of development of this initiative over the last 6 months. Ranveer hopes that as an iconic role model to the youth of India, he can set a good example and give them a worthy cause to champion. The initiative will be supported by a high decibel television, radio and digital campaign.
The drive will appeal to all – with no contribution being too small. All it takes to feed a child for one whole year is Rs.750 – an amount you'll never miss and they'll never forget.
According to Shridhar Venkat, CEO, Akshaya Patra: "It's rare for a Bollywood star to support the kind of work we do and for someone as young as Ranveer, it's truly outstanding. We cherish this association and hope he can help us reach out far and wide. Having Ranveer Singh with us feels like we have the country's youth in our fold."
Adds Ajay Gupta, MD, Capital Foods: "As a Company we're in a good place. So it is now time for us to give back to the community that supports our brands. We strongly believe that by educating our children, we are ensuring a better future for our country."
Initiated by Ching's Secret for Akshaya Patra Foundation, 'India ke Hunger ki Bajao' campaign is supported by Yash Raj Films, Reliance Fresh, Choitrams, Patel Bros., Fluence, India TV, Red FM and Paytm.
Please click on this link to make your contribution: http://www.hungerkibajao.com/donate.php