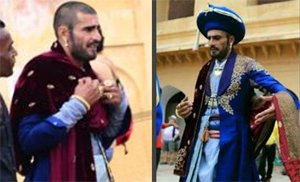 While several sites have been carrying images of an actor on the sets of Sanjay Leela Bhansali's Bajirao Mastani, speculating that the man in question is Ranveer Singh's body double, sources from the unit reveal that he is a character actor in the film and not Ranveer's body double.
The picture, that was clicked on the sets of the Sanjay Leela Bhansali movie, is a glimpse of the grandeur that one can expect from the period drama.
While several on the social media front have been speculating that the image is the first look of Ranveer Singh's character in the film (Maratha Peshwa Baji Rao I in all his glory and grandeur), truth be told, the man in the image is a character actor and part of the supporting star cast.