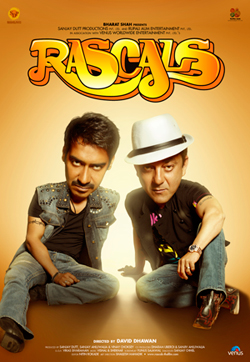 Sanjay Dutt and Ajay Devgn are buddies who are going through thick and thin together. When Ajay made his home production All The Best – Fun Begins, Sanju didn't hesitate for a moment to join the cast. And when now Sanju finally launched his first home production (together with the producers Sanjay Ahluwalia and Vinay Choksey), it was Ajay who willingly supported his buddy and signed for the comedy Rascals directed by David Dhawan. Mostly shot in Bangkok and Phuket, Rascals is now set to be released at Dusserah on October 6, 2011.
Rascals is a comedy about the joys of conning where Sanjay Dutt and Ajay Devgn play two cool competing conmen trying to out-scheme each other in consistently amusing and surprising setups. But when both fall for the same girl (Kangna Ranaut), the competition reaches an all new level as both men constantly attempt to outwit each other to win over the surprisingly elusive Kangna! Since much of the comedy involves people taking advantage of one another, having everything put forward in such a gossamer manner that 'Rascals' becomes an enjoyable journey throughout with an interesting twist at the end…
Well, the man who might have a say in this twist at the end could well be Arjun Rampal who, according to co-producer Dharam Uberoi, plays "the big boss of the conmen Sanju and Ajay" and whom David Dhawan sees as "the surprise package of the film". Arjun, who usually is very selective when it comes to do cameos, agreed immediately when Sanju offered him this role – not only because it was Sanju who asked him ("The film is his home production, and I have to do it") but also because he liked his part: "It's a fun role in Rascals and Sanju called me up to ask if I could do it. Though it's a cameo, I loved the script and my character. And I enjoy doing comedy."
Comedy isn't a foreign word either for Sanju and Ajay who both have excelled in comedies in the past; as David Dhawan says, "Sanju's as well as Ajay's comic timing are just superb". Sanju and Ajay had already shared screen space in Mehbooba (which later got delayed and was released only in 2008) when they came together for David's comedy Hum Kisise Kum Nahin (2002). Here they already flashed their terrific chemistry which they developed to perfection in All The Best (2009), that hit film which gave both Sanju and Ajay awards as best actors in comic roles.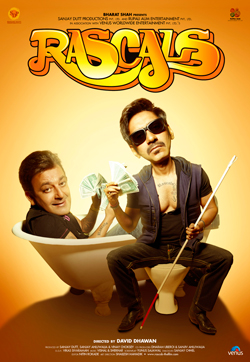 And surely they are 'rascals' in real life too. David Dhawan admitted laughing, "Sanju and Ajay are big pranksters. I was cautious around them, especially if they were together, because they were always conspiring against me! Especially Sanju is quite a rascal! An amazing and loveable rascal, but a rascal nonetheless," smiled David who began his career as a film editor and worked on quite a few of Sanju's films like Naam and Jaan Ki Baazi. And when David wanted to direct his first film, none other than Sanjay Dutt was willing to work with the newcomer-director in Taaqatwar (1987). Since then, David and Sanju have been friends ("I don't have a professional relationship with Sanju, he is more like family") and worked together in five more films, and it was a matter of course for Sanju to sign David for the maiden production of his banner Sanjay Dutt Production Pvt.Ltd (together with M/s Rupali Aum Entertainment Pvt.Ltd).
David Dhawan compares his two 'rascals' Sanju and Ajay with Tom and Jerry: "The fact that Ajay and Sanju are such good friends is the best part of Rascals. When two actors have great rapport between them, it always shows on screen. The entire give and take between Ajay and Sanju is what brings maximum laughter in the film. For the audience it would be fun to watch the two of them in sequences which would be akin to 'Tom & Jerry' chase. I really enjoyed working with the two of them. With Sanju and Ajay around I got the kind of actors that my script demanded and together both of them have improvised further on the scenes. This is the kind of value that senior actors bring to your film. As a director you just need to explain the scenes to them and then they just take them to a different level altogether."
Being a big fan of Manmohan Desai ("I have always maintained that Manji has been my 'guru'"), David also thought of Amitabh Bachchan and Vinod Khanna while shooting with Sanju and Ajay "who are easily today's Bachchan and Khanna". Surely it was a great moment for him when Big B in person unveiled the first Rascals trailer on August 11 – after a phone call from Sanju who shares a deep friendship with Amitabh since the latter's early steps in the industry supported by the late Sunil Dutt.
Besides Kangna Ranaut and Chunky Pandey, Rascals will also see Lisa Haydon who enjoyed working with the two rockstars Sanju and Ajay and dancing "Shake It Saiyyan" with them (music by Vishal and Shekhar, choreography by Bosco and Caesar). Asked about who was the bigger prankster on the sets, Lisa called it a tie. "But they have their individual styles. Sanjay is fantastic at imitating people. David sir (David Dhawan) is cracking up all the time too and Ajay has a scary sense of humour. He says things in a serious tone, so it would take me some time to actually figure out if he was joking or not," laughed Lisa. However, ask her who was the biggest rascal on the sets, and she smiles, "Me".
In spite of their funny references (as seen in the trailer) to their prominent roles Raghubhai (Vaastav) and Sultan Mirza (Once Upon A Time In Mumbai), Sanju and Ajay are calling themselves Chetan and Bhagat in Rascals. Which made writer Chetan Bhagat comment on Twitter, "The good thing is, takes two stars to handle my name. I could live with that ;)".